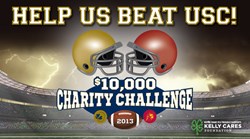 Notre Dame, IN (PRWEB) September 23, 2013
In the spirit of the Notre Dame vs. USC football game taking place under the lights on October 19, Notre Dame FCU's President and CEO, Tom Gryp, challenged USC Credit Union's President and CEO, Gary Perez, to see which credit union can acquire the most credit card applications by 11:59 p.m. on October 17. A Jeweled Shillelagh will not be the victor's award. Rather both credit unions have contributed $5,000 towards the prize. The champion will receive the full $10,000 to donate to the charity of their choice.
Notre Dame FCU's charity of choice is Kelly Cares Foundation, established by Brian Kelly, Head Football Coach of the University of Notre Dame, and his wife Paqui. The foundation supports organizations, initiatives and programs that closely align with goals and values of the Kelly family in three main pillars: Health, Education, and Community. HEALTH - personal involvement with an emphasis on breast cancer research and prevention; EDUCATION - institutional advancement at all levels and capacities; COMMUNITY: involvement in selected initiatives and projects.
This past year, Notre Dame FCU teamed up with the Kelly Cares Foundation and launched a Visa® Platinum affinity card. Notre Dame FCU donates 1% of the Kelly Cares Foundation affinity cardholders' annual purchase amounts back to the foundation. Notre Dame FCU was also a participating sponsor of the Kelly Cares Foundation's Football 101, where funds raised were donated to breast cancer research.
Notre Dame FCU is hoping to contribute even more and we need your help! To help the Kelly Cares Foundation and Notre Dame FCU Beat USC, visit ndfcu.org/beatusc or ndfcu.org/kellycares and apply for a credit card today! Not only will your application give Notre Dame FCU the chance to donate $10,000 to the Kelly Cares Foundation, but you'll have the opportunity to win a $50 Visa® gift card every Friday leading up to the game by sharing or commenting on Notre Dame FCU's Facebook, Twitter, or other social media posts; or clicking the share buttons located on the campaign's website at ndfcu.org/beatusc. Also, eligible applicants will receive a free, commemorative "Onward to Victory!" rally towel.