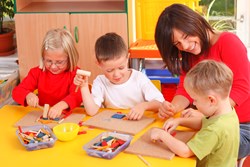 Burbank, CA (PRWEB) September 23, 2013
USA Business Insurance is announcing that Child Care Liability Insurance can be written for all providers of child care whether operating from home or stand-alone centers. General liability insurance is the provider's first line of defense against claims by parents that the center was negligent and allowed their child to get hurt or injured on the insured's property or during their care.
Most states will not issue a license to a child care center unless they can prove they have certain liability limits. This protects both the center and the children. Any parent knows that despite constant supervision children can accidentally fall, throw something and hurt another child or receive an injury on a piece of playground equipment. General liability insurance covers the policy holder for any doctor or medical bills as well as any judgments from law suits if the center was found negligent. The policy also covers the legal fees whether or not the center was at fault.
In addition to general liability insurance experts suggest adding Professional liability insurance, also known as errors and omissions insurance (E&O). This special coverage now available as a part of the new program release protects the business owner in case a child is injured or harmed due to any professional advice or service provided by the caregiver. This coverage is in effect even if the business owner is found to be non-liable. It will cover all legal fees no matter which way the court rules.
Perhaps one of the most important emerging coverages for those who deal with children on a daily basis is abuse and molestation insurance. This can be a touchy subject and it is better to be protected because any charges could put the daycare in serious financial jeopardy. Many business owners believe they can ignore this coverage because they know how they personally treat the children. This policy covers incidents that happen on the day care's property even from casual laborers or anyone who has been allowed on the premises. Now all these coverages can be combined into one package and offered to different types of child care services to protect their best interests.
To learn how Child Care General Liability Insurance can cover all businesses who provides services for children visit http://www.businessinsuranceusa.com.
About USA Business Insurance: USA Business Insurance writes general liability insurance, E&O policies and abuse and molestation insurance for all types of businesses and institutions that deal with children on a daily basis. Professionals are always available to answer any questions.