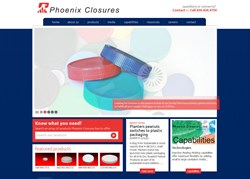 We are proud to have worked with Idea on this project, combining two professional firms for a very successful outcome.
Naperville, Illinois (PRWEB) September 23, 2013
Phoenix Closures is a full service manufacturer of injection-molded closures who just launched their new website built by Chicago web design firm Idea Marketing Group.
Headquartered in Naperville, Illinois Phoenix is the prime source for all plastic capping needs. Starting the company over 100 years ago, Phoenix has evolved their products to not only serve their customers but to continually exceed client standards. Phoenix Closures has established ancillary facilities across the United States and also serves foreign markets to provide the highest quality of products worldwide.
In an effort to continuously provide clients the highest value of service at all hours of the day, Phoenix teamed up with Idea Marketing Group to design their new website. With an extensive background in manufacturing web design Idea was the ideal partner for this project. The website was built out on a Wordpress platform, allowing backend users to easily manage content. Additional features were incorporated that make for a successful marketing opportunity. Wordpress enables users to add and edit content within the website professionally and simply, and is a great platform for users of all technical backgrounds. Both front and backend users receive a simple yet informative experience when exploring the Phoenix Closures website.
This website includes a new search feature in which visitors can search products and view related specifications. Backend users are able to edit products displayed on the website with actions which include adding, deleting and modifying though simple backend navigation. This website features increased search engine optimization (SEO) which aids in expanding the reach of the Phoenix Closures brand and the growth of its business.
The overhaul of Phoenix Closures website has launched a modern representation of the brand that portrays the professionalism and dedication to service that Phoenix has embodied for over 100 years.
To visit the new website or learn more about Phoenix Closures visit http://www.phoenixclosures.com.