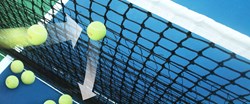 'It works really well for coaching and our Power Hours when we have a lot of people and a lot of balls on court. It's also a no-brainer for safety.' - Len Simard, Director of Tennis, New Canaan Field Club
New Canaan, CT (PRWEB) September 22, 2013
Designed primarily for Tennis Pros, Cardio tennis and for use with ball machines (when dozens of balls are in play at the same time), Ball Magnet™ is one of those rare innovations that genuinely improves the on-court tennis experience.
By capturing balls at or near the tennis net, Ball Magnet™ all but eradicates the nuisance of dealing with dozens of stray balls all over the tennis court. As a result, on-court safety is materially improved with up to five times fewer balls all over the court. Fewer stray balls translate directly into fewer ankle sprains and other painful injuries. Since safety is a concern of all Clubs and Tennis Pros, Ball Magnet is an indispensable tool in promoting better on-court safety.
Fewer stray balls also translate into less disruption to play. Players and Pros alike can focus on the ball in play as opposed to the ball underfoot, which for most tennis players is the difference between a good shot and a rushed one.
Ball Magnet™ also enables faster ball pick-up – something every tennis player will celebrate! Instead of having to zig-zag all around the court to pick up stray balls, Ball Magnet helps concentrate balls 1-3' from the base of the tennis net and at the back of the court. As a result, players can quickly execute ball pick-up leaving more time for actual drills.
The combination of safer courts, more focused drills and more time to play is a key point of differentiation for tennis clubs when marketing to clients, especially as safety is always a concern when using dozens of balls.
Ball Magnet™ is also adjustable for different types of tennis play. For regular play or coaching, the bottom of the Ball Magnet™ is set about 2-3" above the court surface. This allows the balls to be slowed, captured and ejected approximately 1-3' from the base of the tennis net. For match play, Ball Magnet™ can be adjusted to set the bottom of the net 1-2" above the court surface so that balls are retained at the base of the tennis net. When you hit the first serve into the net, you no longer need to pause in order to remove the ball off the mid-court.
Ball Magnet is constructed of three overlapping and lightweight nets which hang on either side of the tennis net. Both sides are strapped round the tennis net poles. The three Ball Magnet nets overlap each other like Venetian blinds so that when a ball hits one net, it creates a temporary pocket and drops down behind the Ball Magnet net, funneling onto the court surface. Almost invisible, most players are not aware that the Ball Magnet is in use unless it is pointed out to them.
Beyond that, no one notices. It is also easy to install and remove. With two people, it takes three minutes to install and only a couple of minutes longer if installing it by yourself. The company has both print and video instructions for installation although once on the court, it is a fairly intuitive installation process.
Ball Magnet™ has been rigorously tested over the past summer season at the New Canaan Field Club in CT and has received strong reviews from Tennis Pros.
Len Simard, Director of Tennis at the club said, "It works really well for coaching and our Power Hours when we have a lot of people and a lot of balls on court. It's also a no-brainer for safety"
Ball Magnet™ is the brainchild of a New Canaan inventor and entrepreneur. "I was frustrated by the constant interruption to drills and I took a bad fall a couple of years ago," said Mark Noonan, the inventor. " ...what other sport puts up with dozens of balls getting in the way of the game and causing so many hazards? I figured there had to be a better way especially for coaching and group drills."
Ball Magnet™ is available online at http://www.ballmagnet.com and the company is currently signing new distributors worldwide.