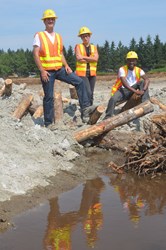 We don't just come in and build the site and walk away.
Seattle, WA (PRWEB) September 24, 2013
When members at Washington State Department Transportation (WSDOT) improve roads and bridges, it helps the traffic flow and enhances life in the state.
It's all part of improving the lives of the people who live and work here. However, when you look at the road improvements, what you may not see is what happens behind the scenes to help preserve the environment, manage wetlands and other important work that goes along with road construction. Local 17 members are at the heart of these efforts.
As part of the SR 520 bridge replacement and HOV project, WSDOT is providing wetland mitigation at the confluence of Bear Creek and Evans Creek in the City of Redmond. The work is part of the Medina to SR 202: Eastside Transit and HOV Project, a collaboration of WSDOT, the City of Redmond, and other local watershed groups.
"The mitigation work will strengthen the local natural environment by improving the quality of wetland habitat," said Stephanie Shelton, WSDOT Chief Inspector and Local 17 member.
She said improvements will mitigate for a loss in wetlands resulting from the construction of the Eastside project. WSDOT is providing wetland mitigation of approximately 32 acres near the City of Redmond on land that was previously farmed.
One of the key elements of this restoration is the creation of 1200 linear feet of new stream channel, which will provide key spawning habitat for salmon in this part of the watershed.
Other members working on this project include: Pascal Tabu and Joshua Hopkins. Local 17 Union Representative Kristen Kussmann, and Emily Wicks from Washington State Representative Cyrus Habib's office, toured the site to learn more about WSDOT's efforts.
"It was super-informative for me to visit the Evans Creek Mitigation site and learn more about the inspection and environmental work of Local 17 members on that project. Members play a key role and help ensure the work is being carried out per the design plans and specifications," said Local 17 Union Representative Kristen Kussmann. "It was also great to have a representative from the Legislature there."
The work on this project began in summer 2012, and active construction will be completed by 2014.
"We don't just come in and build the site and walk away," says Hopkins.
WSDOT will continue to actively manage the site as it grows- monitoring and collecting data on plants, wildlife, soils, and water for up to 10 years to ensure the site is successful and provides the ecological functions it was intended to provide.
Wetland enhancement and controlling invasive species will be part of that. When complete, the Evans Creek mitigation site will support a variety of wetland plants and wildlife. Native plants will provide better habitat than the non-native reed canary grass that has taken over this area, improving water quality and benefitting salmon and other species. There's also a lot of wildlife on the site right now.
"There's coyotes, geese, hawks, beavers, bobcat and blue heron (and other species)," said Tabu.
See the Local 17 video about this project at: http://youtu.be/Rd6J6OrsAbA.