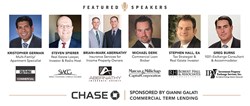 A Previous Attendee:"Dear Kris, Thank you so much for the wonderful luncheon and educational seminar on Oct 4th- Invigorating, Inspirational, and informative!" Ms. Macnab , Apartment Owner
Los Angeles, CA (PRWEB) September 22, 2013
The Commercial Real Estate Market has changed, isn't it time to educate yourself?
This coming October the Kristopher German team of RE/MAX Commercial will be hosting their 4th annual educational luncheon for apartment building owners in Southern California on October 10th . Industry experts in Investment Real Estate will be speaking and sharing valuable investment, legal, and tax information as well as fielding questions from the attendees. The exclusive luncheon in it's 4th year has become a much anticipated event held at the prestigious Hilton in the city of San Gabriel with an all star lineup of guest speakers prominent in the Real Estate Industry.
Prominent experts such as Real Estate Lawyer/Radio Host Steven Spierer, Insurance Specialists Brian & Mark Abernathy, Commercial Lender Michael Derk, Tax Strategist/Investor Stephen Hall, 1031- Exchange Consultant Greg Burns, Chase Bank Commercial Lending Officer Gianni Gallati, and Multi-Family Apartment Specialist Kristopher German of RE/MAX Commercial.
It is time to educate yourself on how investment real estate has changed. The guest speakers will be discussing various topics such as tenant-landlord law, changes in the IRS tax structure for commercial property investors, estate planning, asset protection, changes in commercial mortgage requirements, investment strategies, and how to avoid capital gains tax while expanding your real estate portfolio.
Registration Mandatory for LIMITED Seating
When: October 10th, 2013 11am-2pm
Where: Hilton @ 225 West Valley Blvd, San Gabriel CA
Why: To Educate and Update Apartment Owners in Southern California
CALL 909.294.2593 to Reserve a Seat Now!
Kristopher German, a top 20 Commercial Real Estate Agent in the United States, and his team of multifamily investment specialists, Anthony Rodriguez, Shayna Brooks, and Frank Zamora will be hosting the educational luncheon for apartment owners in Southern California. Kristopher German and each member of his team specialize in Multifamily Real Estate in Southern California. If you would like information about multifamily real estate investing or an evaluation of your own property contact Kristopher at 909.294.2593.
RE/MAX has become one of the most dynamic names in the commercial sector. We're constantly building market share, and there's a very good reason for that: We get unparalleled results for our clients – clients just like you.
Kristopher German - Creating Financial Legacies, One Client at a Time!