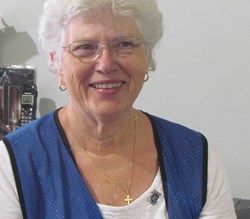 New Orleans, LA (PRWEB) September 22, 2013
Sunday, September 22 to Saturday, September 28 marks Active Aging Week this year, and New Orleans Area Habitat for Humanity (NOAHH) is proud to honor the contributions of senior and retired volunteers and donors to the organization. Recently, NOAHH highlighted two core volunteers, Keith Dix and Carmel Guitterez, both of whom have been regular and indispensable supporters of Habitat. NOAHH is also engaged in an on-going partnership with Lambeth House, a retirement living community in the New Orleans area.
"We're glad to help highlight the contributions of older volunteers this week," said Jim Pate, executive director of NOAHH. "But for us, it's not a one week a year occurrence. We've got core volunteers--volunteers who come at least once a month--who are well into their sixties or more. We can't overstate how valuable their contributions are to us."
Carmel Guitterez, who is retired, began volunteering with NOAHH earlier this year, but she has been involved with Habitat for Humanity for 10 years. Since she began volunteering with NOAHH, she has worked over 200 hours. Her work in the ReStore has been invaluable, helping with merchandising, cashiering, and other tasks, but her volunteering began on site building footings for houses. By the end of the day, she said, her shoes had to be thrown out.
"But it felt so good," Guitterez said. "It just felt so good."
Core volunteer Keith Dix estimates that he has spent a year and a half of his life in total volunteer hours working with NOAHH. Knowing he had to contribute to the recovery of New Orleans after Hurricane Katrina and the subsequent flooding, Dix volunteered for NOAHH only four months after the storm. Initially, he worked at gutting homes, but soon he found himself returning to work on houses in Musicians' Village. After his second trip, he and his wife decided to make a long term commitment.
After spending 25 years at West Virginia University as a faculty member, he now devotes his full time to farming except in 2007 and 2012. In both years, Dix spent six months volunteering to work construction with NOAHH, leaving his 20-acre organic farm, Blue Heron Farms, in Virginia. He says his love of New Orleans and the people he meets here keeps bringing him back.
"The opportunity to be associated with, and become friends with, so many of the hard working, dedicated, and skilled Habitat staff has been the most rewarding part of my whole New Orleans Habitat experience," Dix said. "It was always amazing to me that these folks could do...keep a level head about them, and a smile on their face while managing to actually build a house."
According to former NOAHH Special Events Coordinator Erin Boyd, Dix is a leader and source of continuity on the worksite. "He is a great teacher," Boyd said, "and a very patient and kind person. He knows all of [NOAHH's] construction processes and has great stories to share."
Lambeth House, who lay claim to the title "New Orleans' premier retirement living community," have provided NOAHH's ReStore with an estimated $30,000 in donated merchandise over the course of more than 20 donations. Their contributions continue as their partnership with NOAHH expands. More than once, residents of Lambeth House have volunteered at the ReStore, most significantly during high volume donations when staff and other volunteers were short.
Active Aging Week spotlights the efforts of organizations working with older adults seeking to promote active, healthy, and engaged lifestyles. In 2013, the theme of the week, which is sponsored by the International Council on Active Aging (ICAA), is Discover your Community. Events for the week are locally planned and free to participants. NOAHH honors the contributions of the senior and retired volunteers and donors this week as part of a continuing commitment to the New Orleans community.
New Orleans Area Habitat for Humanity, an independent affiliate of Habitat for Humanity International, is a 501(c) 3 non-profit organization. NOAHH builds new houses in partnership with sponsors, volunteers, communities, and homeowner families to eliminate poverty housing in the New Orleans area while serving as a catalyst to make decent shelter a matter of conscience and action. Since its inception in 1983 NOAHH has built 500 new homes for low-income families in need of adequate shelter. NOAHH plans to continue to build homes in Orleans, Jefferson, St. Bernard, St. Charles and Plaquemines Parishes.