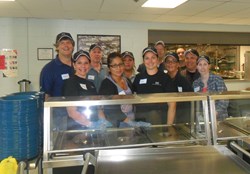 Paterson, New Jersey (PRWEB) September 23, 2013
On September 20th Eva's Village, New Jersey's most comprehensive anti-poverty organization, welcomed a volunteer team from Breeze-Eastern Corporation in Whippany to serve the noon meal in its soup kitchen. Breeze-Eastern Corporation, the world's only dedicated helicopter hoist and wince provider has been an industry leader known for its technical innovation and product quality. Like many corporations they set time aside each year to give back to their communities by giving their time to local organizations.
The "Fund-A-Meal" program provides the opportunity for corporate teams to sponsor a meal in Eva's Community Kitchen and to serve the meal on the day of their sponsorship. "We have expanded our kitchen to accommodate the overwhelming numbers of people coming for a hot meal each day," commented Donna Marie Fico, Director of Marketing & Education. "We are in need of funding to provide the meals as well as volunteer teams to serve them, and this corporate team building effort answers both of those needs. We are always pleased to welcome a new corporate team and appreciate the funding for Eva's Village." The volunteer corporate teams also get a chance to learn about and see many of the other programs Eva's Village has to offer.
Eva's Village strives to feed a hot lunch to all that come to their door each day (365 days/year), serving more than 140,000 lunches/year. The soup kitchen program at Eva's Village, has experienced more than a 24% increase since 2007.
About Eva's Village
Founded by Msgr. Vincent E. Puma in 1982 as a response to the poor and homeless in Paterson, NJ, Eva's Village is a non-profit comprehensive social service organization with a mission to feed the hungry, shelter the homeless, treat the addicted and provide free medical and dental care to the poor. Through more than three decades of service, Eva's Village has established a unique record in facing community challenges and changing the lives of the hungry, homeless and addicted. It has grown from a simple soup kitchen to become the most respected anti-poverty program in New Jersey. Eva's Village now includes fifteen integrated programs housed in numerous buildings spanning several city blocks in Downtown Paterson.
About Breeze-Eastern Corporation
Breeze-Eastern Corporation is a leading global designer and manufacturer of high-performance lifting and pulling devices for military and civilian aircraft, including rescue hoists, winches and cargo hooks, and weapons-handling systems. Breeze-Eastern Corporation is a solid and responsive organization, ready, willing and able to meet the increasingly demanding market environment. The company is led by an experienced and dynamic management team focused on satisfying customer needs. This team, supported by a worldwide network of marketing representatives, distributors, and service centers, is dedicated to providing new and improved products and services to the commercial and military aerospace market. Breeze-Eastern Corporation is ready to meet the customer-driven challenges for today's and tomorrow's requirements.