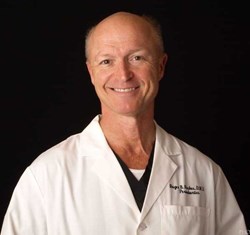 Jackson, MS (PRWEB) September 21, 2013
Dr. Roger B. Parkes and Dr. R. Clarke Steward are certified to perform the most advanced laser gum disease treatment option in Jackson, which treats gum disease and decreases the risk of tooth and bone loss. The Laser Assisted New Attachment Procedure (LANAP) is the only FDA cleared laser available for the treatment of gum disease.
Gum disease begins with harmless-seeming symptoms such as sensitivity of the gums, gums that bleed easily and inflammation. Many sufferers ignore these symptoms, sometimes out of fear of traditional dental procedures, and often because they are unaware of the severity of potential health issues related to gum disease. One of these issues is the deterioration of bone in the jaw. In some cases, the infection associated with gum disease causes the bone in the area to recede away from the tooth, leading to tooth loss. Bone loss occurs rapidly when a tooth is lost, because it is no longer stimulated by the roots of the tooth.
Drs. Parkes and Steward believe in helping patients keep their natural teeth whenever possible. LANAP uses a highly specialized laser to kill harmful bacteria in the mouth and to remove damaged tissue. The laser allows healthy, connective tissue to remain intact, allowing it to reattach to the roots of teeth. LANAP is also the only gum disease treatment that directly stimulates the bone in the jaw to regenerate healthy cells. The stimulation of healthy bone and tissue growth helps to stabilize teeth.
Taking care to prevent bone loss in the jaw is important because deterioration of the bone can alter the shape of the face, making the affected individual appear older. Poor bone density can lead to further deterioration and greater risk of tooth loss. Individuals seeking gum disease treatment in the Jackson area can visit http://www.periojackson.com for more information.
About The Doctor
Periodontal Associates of Jackson, P.A. is a periodontal practice offering personalized dental care for patients in Jackson, MS since 1981. Dr. Roger B. Parkes was accepted into the first class at the University Of Mississippi School Of Dentistry and received his dental doctorate there. He attended Baylor College of Dentistry in Dallas, TX for his Periodontics studies and graduated with his Masters of Science in Dentistry. Dr. R. Clarke Stewart received his B.S. degree in Biology from Mississippi College, and graduated cum laude from the University Of Mississippi School Of Dentistry. He became certified in periodontics from the University of Alabama. Drs. Parkes and Stewart are part of one percent of dental professionals providing the only FDA cleared laser procedure for gum disease and periodontal treatment. To learn more about Periodontal Associates of Jackson, P.A. and their dental services visit their website at http://www.periojackson.com and call (769) 230-3500.