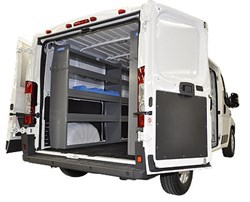 Adrian Steel products for the Ram ProMaster are available throughout North America.
Adrian, MI (PRWEB) September 23, 2013
Adrian Steel announces a new product line of cargo management solutions for the 2014 Ram ProMaster.2014 ProMaster van equipment from Adrian Steel includes partitions, shelving, cabinet and drawer modules, accessories, and ladder racks.
ProMaster Partitions: S-M-C Series Partitions separate the cargo from the cab area. Partition options include see-through panels for side or rear door visibility, as well as solid panels if no visibility to the cargo area is preferred. Ram ProMaster Partitions can be upgraded to include a pass-through door for easy access the cargo area from the cab. Door kits include a locking slam latch. Owners can also select a partition option to provide more cab room. Partitions with the optional 3" setback provide drivers with additional leg room and seat adjustability.
ADseries Adjustable Shelving: Available exclusively from Adrian Steel, the ADseries Truly Adjustable Shelving platform can be easily adjusted in one inch increments and provides the most flexible shelving solution available to accommodate a range of cargo sizes. Shelving measures 59" high, by 14" deep, is available in 32", 44", and 50" lengths. It is easily upgradeable to provide storage solutions for a range of vocational equipment.
Cabinet & Drawer Modules: Secure storage for large and small tools and parts. Modular design allows buyers to add more storage when needed. Multiple van storage modules are available, including tank cabinets, shelf cabinets, cabinet lockers, drawer units featuring the Lock 'n Latch System, drawer components, tote trays and cases, and much more.
Cargo Van Accessories: ProMaster van accessories allow for van interior organization and customization. Blue bin systems maximize ADseries shelf space and allow for visual inventory management. Aluminum floor drawers are stackable and feature the exclusive Anti-Slam latch. Additional van accessories are available, including storage boxes, book files, trays, reel holders, wire window screens, and more.
ProMaster Aluminum Utility Rack: Flexible roof storage is available with the ProMaster utility rack. Durable and light weight, the utility rack is corrosion resistant with its all-aluminum design. The rear roller bar assists users loading and unloading cargo off the top of the standard roof ProMaster Van. An aluminum conduit carrier is also available.
Availability: Adrian Steel products for the Ram ProMaster are available throughout North America through the national distributor network or on a ship-thru basis for national fleets.
About Adrian Steel
Adrian Steel is the industry leader in providing cargo management solutions for commercial vehicles. Adrian Steel's goal is to optimize the value of the customer's commercial vehicle by understanding the role of the vehicle in the customer's business.
Adrian Steel provides solutions for a range of vehicles from crossovers to cargo vans. Their customers include those with one vehicle in their fleet to 50,000 vehicles in their fleet. Adrian Steel has upfitted over 1 million vehicles in its 60 plus years in business and has leveraged that expertise in engineering its innovative product line.
Adrian Steel's installation network provides options to get a vehicle upfitted regardless of where an individual needs to get them done: at the factory, out of dealer stock, at the place of business, or through a bailment pool.
Adrian Steel's strong reputation in cargo management solutions is matched only by its resolved to offer the industry's best lead times and highest quality. Learn more at http://www.AdrianSteel.com.