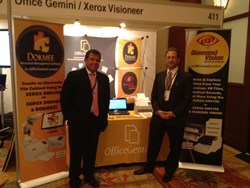 (PRWEB) September 23, 2013
Office Gemini and Visioneer attended the 2013 Felaban CL@B Technology and Marketing Conference held at the breathtaking InterContinental Hotel in Miami, Florida. Cesar Vega, Office Gemini's VP of Sales and Marketing and Jim Tamo, Visioneer's WW Distribution and International Sales, attended the conference to announce their new partnership and bundle package.
Since 1965, The Latin American Banking Federation, Felaban, has been a non-profit entity encompassing over 500 regional banks that has been working for the growth and development of financial institutions in the region. The Felaban CL@B Conference is an event that promotes and exchanges ideas, experience and current knowledge concerning technological solutions through presentations and product demonstrations led by international experts. It also promoted and facilitated contact with suppliers of technological solutions to provide a comprehensive overview of the latest technologies that are available for the financial market.
The Conference took place from September 11-13th; there were an estimated 650 participants and International financial institutions that attended this conference. This was a key opportunity to promote the partnership between Office Gemini and Visioneer. These two companies have teamed up to become an unstoppable force by creating a new bundle solution that offers production scanners with advanced capture software.
In between sessions, there were breaks where the attendees had the opportunity to visit and meet with vendors and see how the latest products and solutions that are available in today's market and how they fit the institution's needs. It also served as a benefit for the vendors, because these financial institutions have very specific requirements and certifications that need to be met before purchasing or committing to a certain product. This is a win-win for both the attendees and vendors who participated in the 2013 Felaban CL@B Conference.
About Office Gemini
Office Gemini is an international software manufacturer focused in the document management and document scanning industry. Office Gemini distributes its software products through a vast worldwide network of value-added resellers (VARs). From great software products and implementation assistance to strategic document management and scanning consulting services, Office Gemini is able to provide a wide range of services to End Users and VARs equally. Office Gemini's sales and support specialists are not only experts on internal software products, but are also very knowledgeable about the industry as a whole and can help with complementing software and hardware products. The two flagship products, Dokmee and Diamond Vision, are used by thousands of customers in more than 30 countries and are available in several different languages. For more information on Office Gemini, please visit http://www.officegemini.com/, or for Dokmee product information visit http://www.dokmee.net. For commentary and industry interaction, please visit http://www.dokmee.net/english/blog/, https://twitter.com/officegemini, https://www.facebook.com/OfficeGemini, https://www.facebook.com/dokmeesoftware.
NOTE TO EDITORS: Diamond Vision® is a registered trademark of Office Gemini in the United States and Dokmee® is a registered trademark of Office Gemini in the United States and/or other countries. © 2013 All rights reserved.