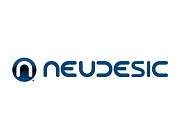 We're thrilled to have Neudesic at CIOsynergy New York. Their relationship with both the IT and business suite gives them a unique perspective on how organizations can leverage technology to achieve business results. - Pat Mason Dir. of Mktg. | CIOsynergy
Hoffman Estates, IL (PRWEB) September 22, 2013
CIOsynergy, a provider of thought leading conferences, today announced Neudesic's participation at its CIO event on September 26, 2013 at the Affinia Manhattan Hotel in New York.
"We're thrilled to have Neudesic at CIOsynergy New York. Their relationship with both the IT and business suite gives them a unique perspective on how organizations can leverage technology to achieve business results," said Patrick Mason, Director of Communications and Marketing at CIOsynergy.
"We love coming to CIOsynergy events because we speak the same language," said Neudesic CIO Pete Orologas. "We're in tune with the challenges that today's IT leaders face, like figuring out the best ways to leverage mobile, cloud, big data, enterprise social and other key technology. Neudesic is uniquely positioned to deliver solutions that help CIOs develop and execute modern IT strategies that drive business growth."
CIOsynergy New York will feature keynote speaker and tech titan Robert Herjavec, star of ABC's hit show Shark Tank. He will share insights to his success, including techniques he's deployed to keep up with today's rapidly changing world.
Moderator Scott Shuster has led virtually every Business Week CEO, CFO, and CIO conference the magazine has held since the founding of its events group. He will direct a panel of leading CIOs as they share and explore how today's technology leaders can be successful in their role.
For more information or to participate in CIOsynergy New York, visit: http://neudesic.cionewyork.com, or contact Araceli Delgado, Project Coordinator at aracelid(at)ciosynergy(dot)com or 1.847.278.2213 ext. 899.
About CIOsynergy
CIOsynergy provides a platform that brings together the thought leaders of IT through events that incorporate face-to-face meeting opportunities, panel discussions, think tanks and keynotes, and C-suite networking programs. Previous events have attracted C-suite leaders from companies such as Wal-Mart, Salesforce, Home Depot, Bank of America, Forbes Media, Wells Fargo, Shell, Allstate, State Farm, Career Education Corp, Pepsi, Sara Lee, Kraft, BP, Loyola University, Kaiser Permanente, Mayo Clinic, and Walgreens. CIOsynergy operates nationwide and has previously partnered with sponsors such as IBM, 3com, VMware, Unisys, Hitachi, Oracle, SunGard, Dell, Google, Amazon, and HTC among 100's more.
About Neudesic
Neudesic is the trusted technology partner in business innovation, delivering impactful business results to clients through leading-edge technologies, innovative solutions and strategic alliances. Founded in 2002 and headquartered in Irvine, California, Neudesic is a privately held company, serving clients globally from offices across the United States. For more information, visit http://www.neudesic.com.