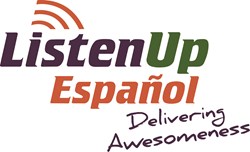 Top direct response marketers have learned that the most effective way to create a successful campaign in English is to make sure it's in Spanish too
Portland, Maine (PRWEB) September 23, 2013
Listen Up Español announces another year of success as the premier Spanish-language Direct Response call center, handling 30 of the top Long Form Infomercial Monitoring Service (IMS) ranked campaigns, 15 of the top Short Form IMS and five top Non-Profit ranked campaigns.
These campaigns have all been ranked in the Top 5 of their various product categories; including Health & Fitness, Beauty and Kitchen & Housewares. Listen Up Español facilitates telemarketing services in Spanish for clients such as DermaWand, Tristar Products, InStyler, Emson, and Children's Miracle Network Hospitals.
Listen Up Español offers direct response, non-profit and corporate clients a broad range of Spanish teleservices from inbound and outbound sales, customer service, and lead generation to Spanish campaign planning, scripting and production services. With a focus on measurement, training and a sales psychology, Listen Up Español has the experience to turn customer interaction into revenue.
"Top direct response marketers have learned that the most effective way to create a successful campaign in English is to make sure it's in Spanish too," said Tom Sheppard, Vice President of Business Development for Listen Up Español. "We are proud of our successes and look forward to helping marketers continue to maximize the awesome potential of this critical market segment."
For more information on how Listen Up Español continues to "Deliver Awesomeness", please visit http://www.ListenUpEspanol.com.
About Listen Up Español
Listen Up Español is the leading Spanish language call center for the U.S. Hispanic market. Headquartered in Portland, Maine and operating in Hermosillo, Mexico, the company employs over 800 native Spanish-speaking agents and provides companies with teleservices to reach the U.S. Hispanic market with optimum results. For more information about Listen Up Español, please visit www(dot)listenupespanol(dot)com.
About IMS
IMS is wholly owned by Media Analytics, LLC. The company is the leading provider of direct response "infomercial-related" research, monitoring, and analytical reports.