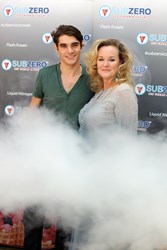 "The ice cream is so delicious … Sub Zero knows what's up"- Actor Kyle Massey
Beverly HIlls, CA (PRWEB) September 21, 2013
The leading liquid nitrogen ice cream company, Sub Zero Ice Cream & Yogurt, participated in a celebrity gifting suite prior to the Emmy's in Los Angeles, CA. Celebrities flocked to the Sub Zero booth to get a taste of the freshest ice cream offered on the market, and the consensus was a unanimous "delicious!"
In conjunction with Bellafortuna Entertainment group, Sub Zero joined several vendors in Beverly Hills last Tuesday to celebrate the upcoming Emmy Awards. CEO, Jerry Hancock and the Sub Zero corporate team were pleased with the outcome and felt that the suite benefited the entire Sub Zero brand.
"Though the company is growing quickly, the Sub Zero brand and concept is not as known to the public," said Jerry Hancock, CEO of Sub Zero Ice Cream. "We love doing celebrity events because they get to experience the magic of our product, fall in love with the concept and honestly endorse it to their fans."
The Sub Zero team got to associate with TV and music celebrities, many of them nominated for Emmy awards, including Kyle Massey (Disney Channel), Alexis Bellino (Real Housewives of Orange County), Christina Milian (Artist), Soulja Boy, Ana Trebunskaya (Dancing With the Stars), Dot Marie Jones (Glee), RJ Mitte (Breaking Bad), Caitlin O'Connor (Sons of Anarchy) and many more. The general response after seeing the flash-freezing technology was astounding.
"This is just insane," said Alexis Bellino from Desperate Housewives of Orange County. "The ice cream is so delicious … Sub Zero knows what's up," said Kyle Massey from Disney Channel's That's So Raven and Dancing With the Stars.
Famous rapper and hip hop artist, Soulja Boy describes Sub Zero Ice Cream as "the Benihanas of ice cream." After tasting her first bite of ice cream, Jennifer Cox from The Brady Bunch exclaimed, "Sheer heaven in your mouth, it is freezing and delicious."
After realizing the health benefits that Sub Zero has to offer, such as lactose-free and sugar free, many of the celebrities were excited that they could eat the ice cream without ruining their diets and it still tastes amazing. With the Emmy Awards airing this Sunday, September 22, Sub Zero was glad to help these celebrities relax and gear up for the big ceremony.