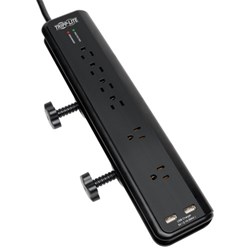 built-in clamps attach to the sides of desks and tables, making outlets readily accessible
Chicago, IL (PRWEB) September 24, 2013
Tripp Lite, a world-leading manufacturer of power protection and connectivity solutions, has expanded its already extensive line of surge protection products with the introduction of the new TLP606DMUSB Protect It!® Surge Suppressor. The new surge suppressor gives users economical AC surge suppression for protection of workstations, desktop PCs, power tools and other electronics. It features built-in clamps that attach to the sides of desks, workbenches and tables for better accessibility to outlets.
Key Features and Benefits:
-- 6 outlets, including 2 widely spaced to accommodate bulky transformers
-- 2 USB charging ports capable of delivering 2.1 amps of power to charge smartphones, tablets and MP3 players
-- Heavy-duty protection with a 2100-joule surge suppression rating
-- 2 built-in clamps secure the unit to workbenches, desks and tables tightly enough to prevent the weight of connected cords from detaching the unit from the surface.
"Our new TLP606DMUSB Surge Suppressor is one of the most versatile models in our line," said JoEllen Klein, Tripp Lite Product Manager. "It is perfect for power tools in garage workbench applications and on-the-go professionals who are constantly plugging and unplugging their laptops and smartphones. Its built-in clamps attach to the sides of desks and tables, making outlets readily accessible."
For more information on the new TLP606DMUSB, visit: Tripp Lite Surge Protector with Desk Clamps and USB Chargers.
About Tripp Lite
Outstanding product reliability and exceptional service have been Tripp Lite trademarks for over 90 years. Tripp Lite's innovations include the world's first UPS system designed specifically for personal computers, and the world's most trusted premium surge suppressor--the Isobar®-with more than 19 million in use. Tripp Lite maintains the highest level of ready-to-ship inventory in the industry with more than 2,500 different products, including UPS systems, rack systems and cooling solutions, PDUs, PowerAlert software for enterprise-level system management and control, surge suppressors, KVM switches, cables and connectivity products, inverters, power strips and notebook accessories. Headquartered in Chicago, Illinois, Tripp Lite maintains a global presence with fully staffed offices worldwide. Additional information, including a list of Tripp Lite's sales offices and authorized reseller partners, can be found by visiting Tripp Lite's website: http://www.tripplite.com.