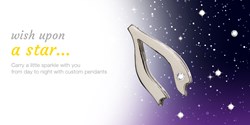 We are working on our funding initiatives after being in business for one year. Crowdfunding is a logical first step in the process.
West Orange, NJ (PRWEB) September 23, 2013
HarpersLove launched their custom jewelry website one year ago on September 29, 2012. The founder and CEO, Michelle Mullman describes her experience as a "mommy-prenuer" in a recent interview aired on [Fox News Live __title__ Fox]. Her self-funded e-commerce company launched a beta version of the business and Ms Mullman is now beginning the challenging journey of seeking funding. Her first attempt is a crowdfunding project launched via Indiegogo.
The HarpersLove Indiegogo project is currently live and running. The funding goal of this project is to raise $10,000 for marketing and new product development expenses for the holiday season 2013.
In return for a small investment, HarpersLove will issue gift cards and free product based on various levels of contribution.
For more information, visit the project at Indiegogo.
HarpersLove is a new online jewelry shopping experience where the customer is the designer. Customers can design their jewelry via design builders that enable them to select various options for every aspect of the jewelry design. The options include selections such as metal type, stone selection, stone type (color, cut, size) and accessory selections (chains, earring backing). All products are custom created and it can take three to five weeks for delivery. Each order includes free shipping and 60-day risk free returns.
The custom jewelry business has a social presence via Facebook, Tumblr, MySpace and Twitter. Customers can also become members of the HarpersLove community by signing up for an account at Harperslove.com. Members can receive special discounts and news on products, events and website changes.
About HarpersLove
HarpersLove, headquartered in West Orange, NJ, launched in 2012 by Michelle Mullman, founder and CEO. The website offers customizable options for fine jewelry and produces their products through artisans in the Greater New York region. The company was self funded by Ms. Mullman and she is currently taking steps to secure additional funding to move the company to the next level. For more information about HarpersLove, visit https://harperslove.com.