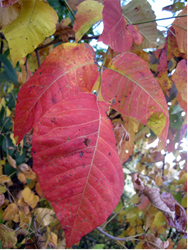 'In the deep south, poison ivy and poison oak never have a true dormant period. One may come in contact with urushiol, the toxin responsible for the reaction even when leaves are not present.' - Rebecca Sorrell, RPh.
Mountain Brook AL (PRWEB) September 25, 2013
As the dog days of summer pass, many are looking forward to the arrival of cool crisp fall days. One of the early signs of fall is the turning of poison ivy leaves from green to yellow, then to bright red. Poison ivy is usually one of the very first plants to have its leaves change in the fall. Look out into the woods and everything will be green, except for bright red leaves on a climbing poison ivy vine.
Why is it that poison ivy leaves change color before most other plants? Poison ivy plants rely on birds to spread their seeds. When flocks of migratory birds are passing through an area, the red poison ivy leaves are like a beacon drawing these birds in for a meal of poison ivy berries.
Poison ivy is a dioecious species, meaning individual plants are either female or male. Female poison ivy plants produce berries, which contain the seeds. Male plants produce pollen, but don't have berries or seeds. In the fall, it's the male poison ivy plants which produce the brightest colors.
The beginning of fall marks the end of "peak" poison ivy, oak, and sumac exposure season. Now that the unofficial end of summer has passed, many people think poison ivy season is over. This is not true! Fall is a great time for camping, hiking, vacations and yard work.
These outdoor activities are all opportunities to tangle with poison ivy, oak, and sumac.
Community pharmacists can be a great resource for questions about Poison Ivy, Oak & Sumac creams or about poison ivy in general. If someone should break out break out with a poison ivy, oak, or sumac rash, "relief" products can be found in the first aid section of a local community pharmacy.