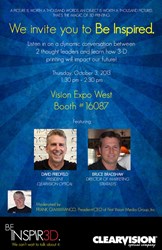 Hauppague, New York (PRWEB) September 24, 2013
For the first time at Vision Expo West, two renowned companies are breaking open the conversation on 3D printing right on the show floor! ClearVision Optical, a 65 year old, family-owned optical company, welcomes world leader in the 3D printing arena; Stratasys to booth #16087 for a day of interaction, demonstrations and rapid prototype sampling coined Be Inspir3D!
All day Thursday, October 3, 2013, in the ClearVision booth #16087, visitors can watch how rapid prototyping is done, interact with 3D printers and speak to 3D experts, as well as leave their own creative thoughts in a new way, right in the ClearVision booth.
At 1:30 p.m., the conversation is really sparked by a dynamic discussion between Stratasys' Director of Marketing, Bruce Bradshaw, and ClearVision Optical's President, David Friedfeld. Listen in as they tackle tough questions moderated by a special industry insider, such as how 3D printing is impacting the optical industry, the evolution of the technology and what the future looks like for the multi-billion dollar optical industry. This never before discussion will leave no subject untouched including insights into costing, materials and manufacturing.
After the discussion, gain 1-on-1 access to Bradshaw and Friedfeld as they will answer the audience's in-depth questions about 3D printing, how it will impact product development, product manufacturing and the consumer. Be there to hear what these two innovators have to say.
The Be Inspir3d event was developed to provoke discussion, spark creativity and drive innovation, all part of the ClearVision philosophy. Be Inspir3d will encourage eyewear enthusiasts to tap into their creative energy, embrace technology in a new way and be part of the conversation. Following are details of what you can expect in-booth during the event:
Location
ClearVision Optical Booth#16087; http://cvopticalvisionexpo.com/
Date:
Thursday, October 3, 2013
Time/Visuals: 9:30 a.m. – 5:30 p.m.
9:30 a.m. – 1:30 p.m.: 3D demonstrations, attendee open conversations with IT Specialist Hershel Kaufman and Stratasys Director of Marketing, Bruce Bradshaw. See before your eyes how a CAD drawing can create a 3D object right on the show floor.
1:30 – 2:00 p.m.: A high-level, in-depth conversation about how 3D printing is impacting the industry with Stratasys' Director of Marketing, Bruce Bradshaw and ClearVision Optical's President, David Friedfeld. Moderated by Vision Care Product News' Frank Giammanco.
2:00 – 2:30 p.m.: Open Q&A for all attendees
2:30 – 3:00 p.m.: Individual press interviews with Bruce Bradshaw and David Friedfeld.
3:00 – 5:30 p.m.: More 3D demonstrations
Other In-Booth Visuals and Goodies:
ClearVision Video: An intimate conversation with key ClearVision Optical influencers about 3D printing. This video will be playing in our booth during the event.
Be prepared to Be Inspir3D and "leave your creative mark" on our unique scratch wall. Take some inspiration with you with a fun giveaway.
To schedule a Vision Expo West appointment, call 1-800-645-3733 or visit our mobile-friendly site http://cvopticalvisionexpo.com/. Want to SOCIALize? Follow, Like or Visit ClearVision Optical on Facebook, Twitter, Linkedin, Pinterest, YouTube, and Instagram.
About ClearVision Optical
Founded in 1949, ClearVision Optical is an award-winning leader in the optical industry, designing and distributing eyewear and sunwear for top brands, such as BCBGMAXAZRIA, Cole Haan, Ellen Tracy, IZOD, Marc Ecko Cut & Sew, Ocean Pacific, and Jessica McClintock. ClearVision's house brands include ClearVision Collection, Junction City, Digit, and Dilli Dalli pediatric eyewear. A privately held company, ClearVision is headquartered in Hauppauge, New York and has more than 250 associates throughout the U.S. ClearVision's collections are distributed throughout North America and 20 countries around the globe. To learn more about ClearVision Optical, visit http://www.cvoptical.com, like us on Facebook http://www.facebook.com/clearvisionoptical or follow us on Twitter http://www.twitter.com/cvoptical.com to stay connected to the latest ClearVision news.
About Stratasys
Stratasys Ltd., headquartered in Minneapolis, Minn. and Rehovot, Israel, manufactures 3D printers and materials for prototyping and production. The company's patented FDM® and PolyJet® processes produce prototypes and manufactured goods directly from 3D CAD files or other 3D content. Systems include 3D printers for idea development, prototyping and direct digital manufacturing. Stratasys subsidiaries include MakerBot and Solidscape and the company operates the RedEye On Demand digital-manufacturing service. Stratasys has more than 1500 employees, holds over 500 granted or pending additive manufacturing patents globally, and has received more than 20 awards for its technology and leadership. Online at: http://www.stratasys.com or http://blog.stratasys.com.