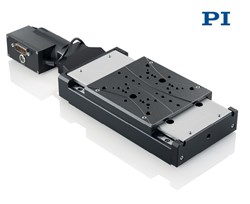 Auburn, MA (PRWEB) September 22, 2013
Precision motion control specialist PI (Physik Instrumente) LP, introduces a new stepper motor stage for tasks such as alignment, robotics, photonics, semiconductor test & metrology, and life science applications. Combined with the low-cost Mercury™ series motion controller, these stages form affordable, high-value, precision positioning systems.
Stress-Relieved Aluminum
The M-406 series of precision linear stages is based on a stress-relieved aluminum base and crossed roller bearings for high stability, accuracy and load capacity. The carriage is driven by a choice of stepper motors and closed-loop servo motors via a precision backlash-compensated fine pitch leadscrew.
Datasheet and Specifications:
http://www.physikinstrumente.com/en/products/prdetail.php?sortnr=701802
Self-Locking to 50 N Force
The stage is self-locking at rest, without the need for a motor brake. Limit switches and noncontact direction-sensing reference point switches in the center of travel support automation applications.
Features & Advantages

4" (100 mm) positioning range
3.5 nm Encoder Resolution
0.1 µm Step Size
Precision crossed roller bearings
Stepper motor and closed-loop servo motors
Direction-sensing home switch for faster referencing
Typical Applications
Research & Development, Quality Control, Semiconductor Test Equipment, Precision Automation, Metrology
Low Cost of Ownership
These motorized positioning stages are especially cost effective when combined with PI's popular, networkable Mercury™ motion controller.
About PI
PI -- a global, ISO 9001 certified market leader in the field of nanopositioning technology, has been developing and manufacturing standard, custom and OEM precision motion control products for 4 decades. PI is present worldwide with 10 subsidiaries and total staff of 750+.