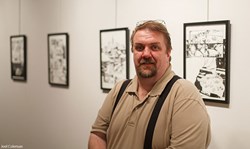 Lynchburg, VA (PRWEB) September 20, 2013
Comic book artist Lee Weeks visited Liberty University this week, sharing his life story and giving drawing demonstrations to students of the Department of Studio & Digital Arts (SADA). His works include well-known characters such as Marvel Comics' Daredevil, Wolverine, the Incredible Hulk, Spider-Man, Captain America, and DC Comics' Batman. Some of them are featured in a Liberty University Art Gallery exhibition that opened Thursday, Sept. 19, and runs through Nov. 10. An opening reception was held Thursday evening.
"Lee Weeks has more than two decades of industry experience. He's worked at the highest levels of the comic book industry and has received recognition in his craft for excellence," said Todd Smith, SADA chair. "We're so pleased to have him here to share with the students, campus, and community."
Dr. Norman Mintle, dean of the School of Communication & Creative Arts (which encompasses SADA) added, "Meeting Lee Weeks is like stepping into the professional fairy tale world of the comic book and sitting at the feet of a master storyteller.
"Immersing in his art allows us to see how Weeks experiences God's creativity in his own work. His presence here at Liberty provides a wonderful template for our students to follow. We're delighted Mr. Weeks has given so generously of himself, his talent, and his time."
Weeks has brought comics to life for 26 years. He has also written storylines for Marvel including this summer's "Angels Unaware," a three-issue Daredevil story (part of "Daredevil: Dark Nights"), which he also drew.
"I love the craft of storytelling, whether it is in film, in music, in poetry, or comic books," Weeks told students during a forum Tuesday night in Arthur S. DeMoss Learning Center. "(Comic Books are) just as valid a form of telling an idea or a story than anything else that is out there."
He said God is the "greatest storyteller" and the desire to tell stories "is a result of our being made in His image."
"Angels Unaware," was written with the hopes of sharing Gospel truths in a way that would be received by the comic book audience, Weeks said. He noted that Daredevil encounters "the real thing" in the story.
"As much as I could, I gave that story to the Lord … I wanted very much to honor God," Weeks said in an interview with Victory FM, a broadcast service of Liberty (listen to the full interview).
He said he has noticed a disturbing trend in the industry, "the loss of what a real hero is," which he attributes to the state of today's culture.
"Out of the abundance of the heart the mouth speaks and, I think, the pen writes," Weeks said. He shared that he and many of his friends learned a lot of their ethics from comic book characters growing up and are saddened to see that aspect fade away.
Because of his strong convictions, Weeks said he has become a "vagabond" of sorts in the industry. He will not commit to a story he is uncomfortable with in light of his faith, he said. But he continues to receive calls for comic book jobs, which he supplements with commissioned work, conventions, and even some Christian art.
Weeks expressed what a tremendous honor it is for him to display works at Liberty, where he enjoys being able to freely talk about his beliefs, which is much different from when he speaks at other colleges. He has two daughters who attend Liberty, Vaughn and Alysha.
The Liberty University Art Gallery, located on the fourth floor of Arthur S. DeMoss Learning Center, Room 4069, is free and open to the public. Hours are generally Monday through Friday 8 a.m. - 7 p.m. and Saturday from 10 a.m. - 7 p.m., but vary due to holidays and class schedules. Call (434) 592-5900 for more information or to book a private tour.
About Liberty University
Liberty University, founded in 1971, is the largest private, nonprofit university in the nation, the largest university in Virginia, and the largest Christian university in the world. More than 100,000 students attend classes on its 7,000-acre residential campus and study in its thriving online education program.