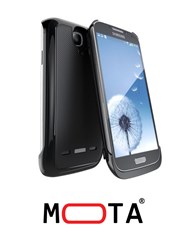 MOTA battery case nearly doubles the battery life of Galaxy S4®
Sunnyvale, CA (PRWEB) September 24, 2013
MOTA, an industry leader in portable extended batteries for mobile devices, announced its newest battery case for Samsung Galaxy S4®.
The MOTA battery case nearly doubles the battery life of Galaxy S4® - users can continue to use their phone without requiring a re-charge. It offers all-around protection while featuring a low-profile, slim design.
"Galaxy S4® offers a beautifully large 5-inch screen and 13-megapixel camera, along with features such as gesture control. These features, while very useful, can drain the battery rather quickly," says Kevin Faro, MOTA's VP of Marketing, "an average smartphone battery last about 6 hours on a charge, and most people have longer days."
The release of this product reaffirms MOTA's commitment to offering top-of-the-line portable power and accessories for the trendiest and most popular mobile devices.
The retail price is $99.99 and it is offered in black and white. The product may be purchased via http://www.mota.com as well as select retailers.
Key features include:
It is powerful.
The high-capacity battery offers 2600mAh of power on the go. The same amount of power found in the battery shipped with the Galaxy S4. The battery type is Lithium-ion polymer – the exact type used in iPads®, iPhones®, and the like.
It is slim.
Being half an inch thick and weighing just over 3 oz, it is the smallest battery case relative to its power capacity. All ports remain easily accessible.
It protects.
The battery case perfectly matches the modern, sleek design of Galaxy S4®. It snuggles the phone to protect it against everyday bumps and includes a clear, high definition screen protector.
It is capable.
The built-in circuit is capable of simultaneously charging and syncing the Samsung Galaxy S4 without removing the phone from the battery case.
For more information on MOTA Battery Case for Samsung Galaxy S4, as well as other mobile accessories, please visit http://www.mota.com.
Retailers interested in offering MOTA product line, should contact Ingram Micro Distribution via http://www.IngramMicro.com.
About MOTA
MOTA®, a subsidiary of UNorth - established in 1999, is a worldwide manufacturer of consumer electronics. MOTA product lines include portable power banks, iPhone® extended battery cases, Samsung Galaxy® extended battery cases, smartphone accessories, and innovative smartphone controlled toys. MOTA offers highly sought after consumer electronic products with award-winning customer service and warranty programs.
For more information, visit http://www.mota.com.