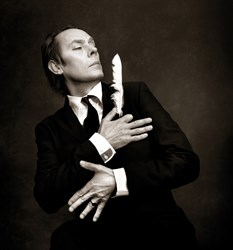 The end of all our exploring will be to arrive where we started and know the place for the first time.
Napa, CA (PRWEB) September 20, 2013
It's 35 years since Bauhaus dropped "Bela Lugosi's Dead" from a monochromatic Weimar dreamscape into our own universe. The clattering 9 and a half minutes of their debut – an audacious, totally Other, anxious-to-the-point-of-internally-hemorrhaging kind of 12" – ushered a ground-breaking aesthetics of atmosphere into the UK's post-punk scene and signaled the start of a long, illustrious and varied music career for Peter Murphy.
When the band broke-up for the first time in 1983, the singer set off on a solo career that found him challenging his audiences at every turn. During an astonishingly fertile three decades, he eviscerated expectations and pin-balled a sprawling wasteland of musical styles: from carrying the mantle of 70's Bowie to rivaling New York's No Wave generation for seductively grainy, punishing grooves; from theatrical, gothic pop to 2011's anthemic yet intimate and esoteric Ninth.
Few musicians of his stature seem as suited – nor as poetically inclined – to fulfill T. S. Eliot's meditation on the path from life to death, that the "end of all our exploring will be to arrive where we started and know the place for the first time." And, sure enough, Murphy has turned things inside-out once more and returned to the prone theatrics and masochism-flecked cool of the original Bauhaus. This time, to realize the particulars of his somewhat fanatical auteur's vision, he is taking it on the road alone, after the last full-band Bauhaus outing demonstrated that his was not a perspective that everyone could accommodate.
Tickets for Mr. Moonlight: Peter Murphy Celebrates 35 Years of Bauhaus are $32 (regular) or $70 (with meet and greet). They are on sale now and can be purchased through the theatre website at http://www.uptowntheatrenapa.com, at Ticketmaster (http://www.ticketmaster.com) or at the theatre box office (please call 707.259.0123 ext. 6 for hours). To find out more, please visit http://www.uptowntheatrenapa.com.
The Uptown Theatre Napa is downtown's ultimate destination for live concerts. Nestled in the famed West End district, this stunningly restored art deco masterpiece showcases only the finest acts, featuring music, comedy and more. An historic landmark, the Uptown offers a phenomenal, intimate live show experience, with excellent site lines and world class sound and lighting. As concert venues go, this is the place to be. Every seat is a great seat so buy concert tickets now!