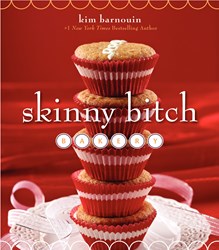 A plant-based cookbook for everyone featuring 80 delicious recipes for vegan baked goods
San Francisco, CA (PRWEB) September 24, 2013
Nutritionist, bestselling author, and self-proclaimed "skinny bitch" Kim Barnouin has introduced millions to the joys of vegan food with her bestselling books. She has been passionate about baking since she was old enough to be in the kitchen, and is quick to point out that "vegan" and "baking" are not a contradiction in terms. "I can tell people all I want that vegan food doesn't taste like cardboard, but it takes a stellar dairy- and egg-free cupcake to really convince them," she writes.
Now, she dives into the delicious challenge of vegan baked goods, tantalizing readers with more than 80 delectable recipes. SKINNY BITCH BAKERY(HarperOne; Hardcover; September 24, 2013) brings tasty solutions, sensible substitutions, and inventive secrets to having your cake and being kind to animals, your body, and the environment, too.
Beautifully illustrated with full-color photographs throughout, SKINNY BITCH BAKERY shares Barnouin's secrets to making sweet and savory vegan baked goods as light, fluffy, and irresistible as their conventional counterparts, with the added benefits of being healthier and cruelty-free. In this book she shares her tried and tested techniques from the best substitutions for traditional baking ingredients to making the delicious gluten-free treats.
SKINNY BITCH BAKERY is mouthwatering recipe book for enjoying vegan desserts, breads, and savories during the holiday baking season and every day. For vegans and non-vegans, bakers and non-bakers alike, this essential guide to vegan baking contains:

More than 80 irresistible recipes for cakes, pies, cookies, savories, breads, cold treats, and gluten-free goodies
10 simple rules for vegan baking
Vegan baking substitutions
Healthier sugar alternatives
Must-have vegan pantry staples
How to bake with kids—and more!
SKINNY BITCH BAKERY reveals the pleasures of vegan home baking to delight family and friends with delicious, healthy baked goods. With her trademark sassy and humorous approach to veganism, Kim Barnouin, the nutritionist co-author of the wildly popular Skinny Bitch books, has become the voice for the compassionate eater. With this book, she shows us how to make living a plant-based life easy and delicious.
About the Author:
Kim Barnouin holds a Master's of Science degree in Holistic Nutrition. A New York Times bestselling author and former model, she is the author or coauthor of seven books and has successfully counseled models, actors, athletes, and other professionals using the Skinny Bitch method. Her Healthy Bitch Daily blog can be found at http://www.healthybitchdaily.com. She lives with her family in Southern California.
SKINNY BITCH BAKERY
By Kim Barnouin
HarperOne / $27.99 Hardcover
On-sale: September 24, 2013 / ISBN: 9780062105134
Also Available as an eBook