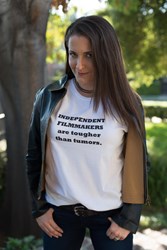 Davison is adamant, "I'm too close to the finish line to let this stop me."
Los Angeles, CA (PRWEB) September 23, 2013
First time filmmaker, Kathleen Davison, President of Painted Saint Entertainment, was diagnosed with a brain tumor while pushing her independent feature, Primrose Lane, through the final stages of post-production.Pressed to set a surgery date, she delayed the procedure to September 24th, one day after the Sundance Film Festival feature submission deadline of Monday, September 23, 2013. Davison is adamant, "I'm too close to the finish line to let this stop me."
The psychological thriller feature, headed into TV episodic, is inspired by actual paranormal events that took place in the Los Angeles home of Davison and her producer husband, Anthony Dimino. The story of a woman plunged into an alternate reality despite her refusal to accept it, makes Davison's current predicament look like a bit of life imitating art.
In addition to being the director, producer, and writer, Davison stars alongside Curtis Mark Williams (The O.C.), Alysia Reiner (Orange Is the New Black), and Chris Chee in a stunning breakout role. Supporting cast includes April Matson (Kyle XY), Shari Belafonte (Nip/Tuck, daughter of Harry Belafonte), Richard Riehle (The Office), Noah James Butler (Key), and Sean Galuszka (Duel of Legends).
Just as the film was about to launch a Kickstarter campaign to raise their final finishing funds, Davison was diagnosed. Refusing to be stopped, she pushed through post, completing a rough cut for Sundance that now needs its final polish. The newly launched 30 day Kickstarter campaign roughly coincides with Davison's at hopeful best, one month post-op recovery.
Davison shared the journey of her diagnosis with friends on Facebook, a saga worthy of its own feature. Working through the pain and fear with refreshing crass humor and optimism, Davison remains determined to view the ordeal as "a gift" that serves as a personal reawakening.
For now, Davison's film and life both have a cliffhanger ending that hopes to be continued.