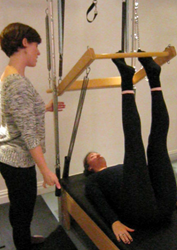 Power Your Tower will focus on strength, pace and flow of a workout - going back to the roots of Pilates without over thinking or over analyzing the movements.
New York, NY (PRWEB) September 25, 2013
Mind Your Body Pilates UES presents another of its versatile workshops: "Power Your Tower" is a Pilates In-House Training in which participants will learn how to vigorously power through a full-body workout of legs, arms, back and core on the Pilates apparatus known as The Tower. This workshop will focus on a more aerobic type of Pilates with more emphasis on continuous movement and flow.
This is one in a Pilates continuing education series of workshops which Gail Giovanniello PMA® CPT Advanced Senior Pilates Teacher offers regularly for the Pilates instructors of Mind Your Body Fitness and also encourages participation from clients of MYB as well as teachers and clients from other studios.
The "Power Your Tower" Pilates workshop will commence on Friday, October 4th from 4:30-6:30 PM and the cost of the workshop is $35.00.
The six Principles of Pilates are breath, concentration, center, control, precision and flow.
Pilates, the way Joseph Pilates intended when he devised the method he then called "Contrology" has some similar aspects of yoga. As with yoga in which the two typical categories of classes are distinguished between restorative and "vinyasa" - also sometimes referred to as "flow" yoga - so it can be with a Pilates practice. A Pilates student can take a class that is more focused on alignment and performing the exercises with precision or a student can take a class that more fluidly moves through the exercises continuously so that strength and stamina are built. Vinyasa actually means breath-synchronized movement and as this "Power Your Tower" is presenting a more aerobically-oriented and challenging workout, so will breath be a major focus as well as flow.
Gail Giovanniello PMA® CPT or Pilates Method Alliance Certified Pilates Teacher regularly offers to her staff of Pilates instructors educational in-house trainings. She is revitalizing her popular "Power Your Tower" group class with its focus on getting to all of the parts of the body in a quick progression of many exercises with more repetitions to present more vigorous Pilates as not just an option but as a necessary adjunct to the way of learning Pilates as a more focused-on-form in a one-on-one private session setting.
Says Gail: "This 'Power Your Tower' workshop will focus of strength, pace and core - going back to the roots of Pilates without over thinking or over analyzing the movements - and getting a great work out. I am bringing my 'Power Your Tower' class back by popular demand and pumping up Pilates to challenge anyone's fitness level."
The lesser-known of the two main Pilates apparatuses - the Pilates Trapeze Table - also known as the Cadillac has an adapted version - which was created to teach Pilates on the apparatus in groups - called Pilates Tower. The Tower is different from working on the Pilates Reformer in that the person practicing the Pilates exercises has to be more responsible within their own body to create core stability and joint and skeletal stabilization - rather than relying on the machine. The way the springs and bars are situated on the Tower allows for a versatile range of body positioning and spring resistance. The types of set-ups the Pilates Tower allows are legs springs, roll-down spring bar, the push-through bar sprung from below, and the push-through bar sprung from above.
Some of the vast assortment of exercises which will be presented by Gail and performed by the participants are:
Using the leg springs: frogs, airplane, hamstrings busters, and the Pilates Five series with springs.
Using the roll-down bar: roll down, chest expansion, rolling in and out, breathing, thigh stretch.
Using the push-through bar: Tower, triceps, bench press, long sit up, teaser, hip opener, footwork.
And the standing arm series: squats, bicep curls, hug-a-tree, salutes, boxing.
Watch a Pilates Tower Class video from Mind Your Body Pilates studio on Lexington Avenue near 92nd Street:
Mind Your Body - Pilates Leg Exercises in a Small Group Pilates Tower Class - Pilates NYC
Gail's commitment to ongoing Pilates continuing education in regular offerings both for instructors and clients can always be viewed on the Pilates Workshops tab on the Mind Your Body website which consistently lists upcoming In-House Trainings which are given for the teaching staff but are also available to the general public.
Also see the complete Mind Your Body Fitness UES Group Pilates Class Schedule:
Over 50 Weekly Pilates Classes to Choose from on Pilates Reformer, Pilates Tower, Pilates Chair and Pilates Mat: each class with five or fewer students and available seven days a week
Complimentary press previews with Gail Giovanniello can also be scheduled for alternate times.
Press contact: Tim Driscoll 212-647-8878.