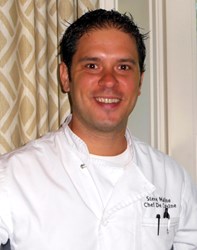 My passion and dedication to the industry has taken me across the world and back, but it was my experience in Colorado that has really fortified my ardor for the culinary arts.- Maline.
Aspen, CO (PRWEB) September 21, 2013
Hotel Jerome, an Auberge Resort in Aspen, Colo., has announced the appointment of Steven Maline as the Chef de Cuisine to join the iconic hotel's renowned culinary team. Following a complete top-to-bottom design transformation and historic restoration, Hotel Jerome reemerged with a new signature restaurant, called Prospect, as well as the Living Room, a small plates and lounge concept off the lobby.
Originally from California, Maline's industry experience spans across two continents with an expertise in restaurant openings as well as an exceptional knowledge of AAA four diamond fine-dining establishments. Under the direction of Executive Chef Rob Zack, Maline will support the daily operations and creative development for Prospect, the upscale American bistro. Renowned for hearty dishes created from fresh and locally sourced ingredients, Prospect offers a contemporary approach to classic dishes.
Prior to Hotel Jerome, Maline worked in Arizona across a ten year span as the Executive Sous Chef at Sassi Restaurant as well as the Director of Operations at Bianco Group International. While there, Maline executed the openings of Wolfgang Puck at Hotel Bel Air in Beverly Hills, Calif., in 2011 and Chris Bianco's Italian Restaurant in Phoenix, Ariz. 2012. Also during his tenure at Bianco Group, he accepted a four-year opportunity as opening Chef de Cuisine at Wolfgang Puck's Spago at The Ritz Carlton—Bachelor Gulch where he cultivated regional mountain cuisine and fostered relationships with area farmers. He became familiar with Prospect as the restaurant uses locally sourced ingredients from neighboring farmers markets, such as the Avalanche Cheese Company in Basalt, Colo. as well as Aspen's Emma Farms Cattle Company.
In his pursuit of cultural inspiration and education, Maline moved to Parma, Italy in 2003, where he gained an unparalleled respect for the relationship between food, culture and lifestyle. Serving as a line cook for Il Ristorante Trovatore, he created homemade pastas, traditional Italian pastries and perfected the butchering of local meats with the use of fresh local ingredients. Before moving to Italy, Maline ascertained his passion for Italian cuisine when he was presented with a one-of-a-kind opportunity in New York to serve as a line cook under Chef Mario Batali at Lupa Osteria Romana.
Beginning his career at Wolfgang Puck's Trattoria del Lupo in Mandalay Bay in Las Vegas, Maline served as an integral part of the opening team by applying his expertise to the line while also teaching cooking classes available through the restaurant. Recognized for his proficiency and success in restaurant openings, he was then relocated to Maui, where he served as Sous Chef for Wolfgang Puck's Spago at Four Seasons Resorts, where he was instrumental in preparing and establishing the restaurant for their 2001 opening. Excelling in restaurant management and hospitality supervision, Maline also possesses extensive communication abilities in both Italian and Spanish. He was a graduate from the Hotel Restaurant Culinary School in Santa Barbara, Calif.
"My passion and dedication to the industry has taken me across the world and back, but it was my experience in Colorado that has really fortified my ardor for the culinary arts," said Maline. "With over a decade of experience and various positions under my belt, I genuinely look forward to applying my knowledge and providing a unique perspective as Chef de Cuisine at Hotel Jerome."
About Hotel Jerome
A landmark in Aspen, Hotel Jerome, an Auberge Resort, began a new chapter in its storied history when it unveiled an extensive renovation in December 2012. Aspen's favorite gathering place welcomed guests back with Prospect, an American bistro; a relaxed new Living Room bar and lounge; a new Auberge Spa; and the legendary J-Bar, which is lauded as an Aspen institution. The hotel pioneered new levels of innovation and luxury when it opened in 1889 at the height of Aspen's boomtown silver-mining era and is often described as Aspen's "crown jewel." Hotel Jerome's 93 rooms and suites offer stunning mountain views. Hotel Jerome was added to the National Register of Historic Places in 1986. For more information on Hotel Jerome, please visit http://hoteljerome.aubergeresorts.com/. Follow Hotel Jerome on Facebook at http://www.facebook.com/hoteljeromeaspen, on Twitter @HotelJerome or on Pinterest at http://pinterest.com/hoteljerome/.
About Auberge Resorts
Auberge Resorts is a collection of exceptional hotels, resorts and private clubs, each with a unique personality that assures a memorable guest experience. While Auberge Resorts nurtures the individuality of each establishment, all are characterized by a set of communal elements: intimate, understated elegance; captivating locations that inspire exceptional cuisine and spa experiences; and gracious yet unobtrusive service. Among the Auberge collection of distinctive properties are: Auberge du Soleil, Napa Valley, Calif.; Calistoga Ranch, Napa Valley, Calif.; Solage Calistoga, Napa Valley, Calif.; Esperanza, Cabo San Lucas, Mexico; The Inn at Palmetto Bluff, Bluffton, S.C.; Hotel Jerome, Aspen, Colo.; Pronghorn Golf Club & Resort, Bend, Ore.; Auberge Residences at Element 52, Telluride, Colo.; and the Malliouhana Hotel & Spa on the Island of Anguilla, British West Indies, with several others currently in development. For more information about Auberge Resorts, please visit http://www.aubergeresorts.com. Follow Auberge Resorts on Facebook at facebook.com/AubergeResorts and on Twitter at @AubergeResorts.