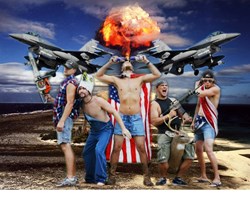 Let's be honest, what's more American than a 30 foot eagle, making a flight to freedom over this countries National Harbor? It just makes you want to yell it out... MURICA"
(PRWEB) September 21, 2013
Flugtag-(Floo-taag): is a German word that stands for a flying day and air show. Redbull is drawing a huge crowd to Washington D.C. this Saturday September 21st, 2013 by putting on this yearly event. This Flugtag event is where several teams fly decorated man-powered aircrafts, to see which team can fly the greatest distance. Flugtag events have been taking place for centuries and now Red Bull took over the event in 1992 and started hosting competitions worldwide. This event has become so popular over the years that this year, a crowd as large as 15,000 people will be attending. Tickets for this event sold out weeks ago but the event will be broadcasted nationally on ESPN.
Lynx Shreds Apparel, from Virginia has formed a team called "Made In 'Murica." Since all of Lynx Shreds Clothing is made in America the founders of the company named the team this to express the patriotic heart and soul of the clothing in such an appropriate place, the nations capital. "Made in Merica" have had media frenzies after winging all the different mini-competitions leading up to the event. They won events such as "Most Epic Team Photo" and "Best Team Video."
Many teams come to provide the audience with a comical show. In the past some teams would fly aircrafts that look like a giant chicken or a birthday cake. Made In 'Murica comes to the capital with the intent to provide the showmanship aspect that the flugtag spectators are looking for. Flugtag "Made in Merica" flyer Brad Ewing said, "What better idea is it to get a group of boys from the Shenandoah Valley together with backyard degrees in redneck ingenuity, and build a giant 28 foot eagle that actually flies? Let's be honest, what's more American than a 30 foot eagle, making a flight to freedom over this countries National Harbor? It just makes you want to yell it out... MURICA"
Lynx Shreds is an inspired apparel company dedicated to designing a culture of clothing that embodies the "extreme athlete" lifestyle. Flugtag is a perfect event for the brand to sponsor because anyone willing to crash a comical decorated aircraft off a massively high ramp into the water seems a bit extreme. The teams' goal is to be as patriotic an entertaining as possible will trying to win the gold! Be sure to help this patriotic team by voting for Lynx Shreds: "Made in Merica" by texting DC4 to 72855 and watching the event live on ESPN.