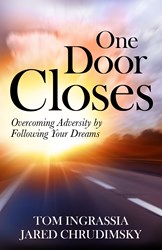 "One Door Closes is a wonderfully inspirational and spiritually uplifting book that leaves the reader with gratitude and hope. It empowers you to live the life you envision for yourself. A masterpiece!"Dr. Karen Way, Holistic Chiropractic Physician
Holden, MA (PRWEB) September 24, 2013
One Door Closes: Overcoming Adversity By Following Your Dreams presents the inspiring stories of sixteen people who have triumphed over seemingly insurmountable odds in order to live into their dreams and achieve their goals. Many are sharing their stories publicly for the first time.
These dreamers show their road map to success, guiding the reader to discover how to live their life with vision, courage, determination, and passion. They share the wisdom they learned along their journey--sometimes the hard way--wisdom the reader can use on their own journey.
Break through the roadblocks and detours that have sidetracked you on life's highway!
Make this the year when everything in your life falls into place--just the way you envision it!
Among the people profiled is Scherrie Payne, the last lead singer with The Supremes (1973-77), who has faced low self-esteem, depression and breast cancer. June Monteiro, of The Toys--whose hit, "A Lover's Concerto," spent six weeks at Number One in 1965--tells of her triumph over drug addiction and throat cancer--a potentially devastating obstacle for a singer. Mary Wilson, the legendary founding member of The Supremes, and the only member who was with the group from its beginning in 1959 until it disbanded in 1977, shares a very special message of hope and healing that forms the Epilogue of the book.
In addition to these three well-known performers, others profiled are "ordinary people who have triumphed over obstacles to achieve extraordinary things," according to Ingrassia and Chrudimsky. They include:
Korene Mosher, who lost her femur to cancer at age 12, and now is in her first year at Yale Medical School
Ken McDonnell, a triathlete and marketing/public relations professional who sustained a traumatic brain injury in a bicycle accident, being given just a 25% chance of surviving the first night
January Jones, nationally known radio talk show host and author, who lost at age 25 and with 2 infants lost her husband in a tragic accident
Annette Rafferty, the former Roman Catholic nun who opposed the church hierarchy to establish the first--and most successful--emergency shelter for women and children in Central Massachusetts
The Reverend Shandirai Mawokomatanda, who attempted suicide three times as a teenager following an all too familiar childhood trauma
Corrie Painter, diagnosed with angiosarcoma--one of the rarest cancers, with fewer than 300 people diagnosed per year--who now raises thousands of dollars for cancer research
Scott Erb and Donna Dufault, the dynamic duo behind Erb Photography, whose path took many twists and turns--including 4 bouts with unemployment--on their way to starting their successful business
Nancy Dube, who with her two small children, escaped an abusive marriage, fought the system and won, and started a successful human resources consulting company
Reed Nixon, who became a quadriplegic at age 17, after a tragic car accident
Glenn Nazarian, who lost 112 pounds to become a champion body builder--and then almost lost his life in a car accident that left him hospitalized for six months, going on to found a chain of 16 successful fitness centers.
In addition to these inspirational stories, One Door Closes features 10 holistic self-assessment tools to use as a blueprint for designing a more satisfying, productive and successful life, as well as self-motivational tips and techniques, and journal pages designed to help clarify goals and dreams.
Authors Tom Ingrassia and Jared Chrudimsky--principles at The MotivAct Group--are the co-founders of the popular and innovative Mental Massage(tm) workshop program, which fuses guided visualization (Ingrassia's specialty) with re-energizing massage (Chrudimsky is a licensed massage therapist and owner of Revitalize Massage Therapy. MotivAct offers a holistic approach to personal and professional development through transformational workshops and seminars, and individual coaching for success. "The concept for our book comes directly from our work with our coaching and massage clients," say Ingrassia and Chrudimsky. "We share a passion for guiding our clients to achieve a more balanced, healthy and harmonious life."
"Using One Door Closes as a guide, we hope our readers will be inspired to discover how to live into their dreams...no matter the obstacles they may face."
One Door Closes: Overcoming Adversity By Following Your Dreams is available at Amazon.com.
For more information about One Door Closes: Overcoming Adversity By Following Your Dreams, and to schedule an interview with the authors and any of the people profiled in the book, contact Tom Ingrassia at tom(at)motivactgroup(dot)com.