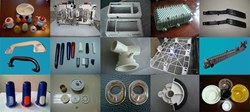 (PRWEB) September 21, 2013
Recently, Wuxi Glory Plastics, a leader in the field of plastic injection molding, has announced its 2013 autumn sales campaign, and launched a promotion of plastic parts and injection molding services. According to the CEO of the company, all customers now can enjoy a discount, up to 30% off before Oct.31, 2013.
Wuxi Glory Plastics is the world's leading brand of plastic injection molding. It has been in the industry for more than 15 years. Its injection molding experts have much industry experience, so that its quality standard is at a very high level. All its injection molding services can be applied on many plastic caps, auto parts, EIFS fasteners, and more.
The spokesman David says, "China plastic parts have been very popular in the world, and we are very excited to launch the injection molding sale. Now, we want to make our injection molding available to more customers worldwide, and explore our global market share at the same time. More details of this promotion can be viewed on our website."
Moreover, the company also offers discounted blow molding services with custom designs for very cost effective plastic packaging solutions. The plastic caps and bottles can be painted in different colors and with a range of protective coatings. All these services can now be ordered at affordable and competitive prices.
About Wuxi Glory Plastics
Wuxi Glory Plastics is a China based company which was established in 1995. It has become one of the leading suppliers in the plastic industry in China. The core services offered by the company include blow molding and injection molding. Other than this, custom molded parts and various plastic parts are also supplied.
For more details about their products and services, please visit: http://www.plastics-molding.com