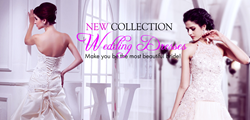 (PRWEB) September 21, 2013
Fairyin aims to make women more beautiful by offering trendy and high-quality women's dresses that come in various patterns and styles. Recently, Fairyin has announce a special offer on all its evening dresses and mother of the bride dresses, up to 68% off.
Fairyin is a leading evening dress manufacturer and retailer; the mother of the bride dresses from this company are popular in the market. Now, all these dresses are offered at new low prices. The company is ready to meet the possible shopping wave brought by a series of sales and promotions that are designed to give ladies a chance to save much money.
"We're excited to introduce the promotion to our clients. Our designs are both sexy and elegant at the same time, and this is the reason that they are popular in the market. Our target market is women from twenty to fifty, but we also provide custom designs for everyone," says, Joseph Moor, CEO of Fairyin.
With a vast knowledge of craftsmanship and consumer needs, Fairyin has developed a fine line of women's dresses including wedding dresses, bridesmaid dresses, evening dresses, etc. Its rich experience of 10 years in the industry of women's dresses is a very important factor to its success.
About Fairyin.com
Founded in 2008, Fairyin.com is one of the recognized leaders in women's dresses specializing in providing high-quality trendy dresses for all its clients around the world. The company has a group of designers who create elegant designs for customers all over the world. To find more information about Fairyin wedding dresses, please find it at:
FACEBOOK: http://www.facebook.com/Fairyin
TWITTER: http://twitter.com/Fairyin