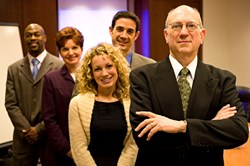 Kastler Consulting Group: Strengthening Your Small Business with Finance Tools and Services
(PRWEB) September 30, 2013
Today Kastler Consulting Group announces new financial analysis tools and consulting services for small businesses in the area of sales pipeline management and cash flow analysis. These are two very important processes that many start-ups and small businesses forget to include in their Standard Operating Procedures.
To avoid cash flow surprises and help companies get a grasp on their sales process and revenue pipeline management, Kastler Consulting has developed a simple and easy-to-use software tool that will run on most computers and laptops. The software will enable company executives and sales managers to keep track of prospects and track the revenue opportunity through all stages of the sales process. A unique feature provided by Kastler is to link projected sales revenues to a 2-year cash flow analysis, providing executives a snapshot of where their business is headed and better insights to manage their company's budget.
Although many other Customer Relationship Management software tools are available on the market, most are expensive, cumbersome to use and focus only on the sales process without linking to a company cash flow analysis or budget tool.
According to Mike Kastler, founder of Kastler Consulting Group, "We recognize that start-ups and small businesses struggle with managing their sales pipeline and budgeting the business. So we link those two together and form a very nice tool that gives company executives the information they need to run the business based on projected sales revenues. We customize the solution to each company's requirements to give a unique dashboard of information."
With Kastler Consulting Group's small business tools and customization services, small businesses now have a low cost solution that can provide a competitive advantage, lower overall internal sales management costs, and provide for much improved executive decision making.
About Kastler Consulting Group
Kastler Consulting Group, LLC is a Michigan-based company with a mission of "Building Stronger Individuals, Communities and Businesses." We provide personal finance and budgeting software and coaching for individuals and sales and finance consulting for small businesses.
Michael T. Kastler is the founder and author of the "Family Series" personal finance software and the book, "Get a G.R.A.S.P. on Your Budget and Your Cash." His website can be found at http://www.kastlerconsultinggroup.com.