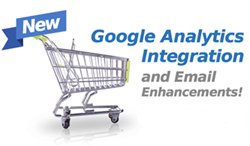 St. Louis, MO (PRWEB) September 24, 2013
A new update to 1AutomationWiz software and service was announced today. The e-commerce, shopping cart software now features advanced Google Analytics integration to their marketing automation platform.
Now in addition to automating web site sales and marketing, users can also track their website conversion rates and marketing strategy performance.
1AutomationWiz.com users can now track their e-commerce system from within the Google Analytics tool. The program also tracks data within sales funnels and users now have full visibility into their up-sell purchase process. Additionally, all system hosted cart and landing pages are "trackable".
The 1AutomationWiz e-commerce automation system has also added new features to its email marketing tools.
The new email system upgrades simplifies the duplication of email autoresponder campaigns within accounts and adds a new spam blocking algorithm to protect web forms.
Spam complaints from emails generated can also be tracked, so users can manage their deliveries and tailor their content for better user engagement.
1AutomationWiz customers still get the fully integrated client management and product database system, affiliate tracking software, ad tracking system, digital delivery system, and electronic coupon as well as the Up Sell Express system as the new features do not increase costs for the user.
The 1AutomationWiz shopping cart software and companion tool sets do not require any installation as it integrates seamlessly with existing websites, blogs and social media channels.
For more information on 1AutomationWiz Google Analytics update, visit the 1AutomationWiz blog here.
About 1AutomationWiz
Based in the U.S. and Canada and established in 2001, 1AutomationWiz provides a set of bundled e-commerce shopping cart software, email marketing and follow up tools, split testing software, affiliate management tools, and more. It is suited for small and medium sized businesses and now integrates Google Analytics for a more complete solution.
Additionally, partnerships with leading providers have added layers of security, free hosting, and discounted merchant services. See http://www.1automationwiz.com for more information.
Contact Don Schnure
1-800-671-3871
1AutomationWiz.com
11939 Manchester Rd, #198
St. Louis, MO 63131