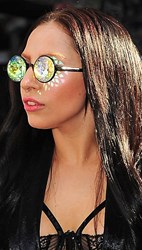 A Strange New Eyepiece Is One-Upping Google Glass. - Flavorpill
(PRWEB) September 23, 2013
Brent Paul Pearson is a writer and artist living in Los Angeles. In December 2011, he invented Kaleidoscope Glasses called Future Eyes for a book he was working on about the process of invention and time travel. Kaleidoscope Glasses are hand made eyewear art with crystal prisms for lenses that give the wearer a very unique, multi-faceted perspective on the world around them.
In 2012, Brent decided to experiment with Future Eyes by introducing them into different communities and began to document the reactions. He participated in many events and coordinated installations all over the city of Los Angeles. He called these installations Optical Aerobics Chambers, which were large cylindrical structures filled with mirrors and color projections. A person entering the structure would wear Future Eyes: Kaleidoscope Glasses and experience performances of color, light and reflection.
Kaleidoscope Glasses are not a new idea but have a unique place in the new world of modern technology with such things as Google Glasses transforming the role of the senses. Crystal lens glasses are quickly becoming much more relevant because in many ways they do the exact opposite of what Google Glasses do by reclaiming the physical senses for true experience instead of utilizing them for a purpose.
The fashion world doesn't quite know what to do with Future Eyes: Kaleidoscope Glasses because they aren't functional and land somewhere in the realm of high-end novelty or eyewear art, existing as both art objects as well as a wonderful accessory.
Recently, many of the more experimental celebrities have become fascinated by the idea of Kaleidoscope Glasses. Lady Gaga just before NYC fashion week found the crystal vision very inspiring as she emerged from her London hotel to a large crowd while wearing the crystal spectacles, provided by fellow optical revolutionary Pam Tietze. At Coachella earlier this year, Kelly Osbourne found Future Eyes. Also, David Lynch at his record release for "The Big Dream" received a pair and quickly saw their brilliance as well as his friend and fellow transcendentalist, Russell Brand, who wore them on Episode 13 of his talk show BRANDX. Another unstoppable force in the worlds of art and cinema, James Franco, after getting a pair quickly compared the experience to the highly psychedelic drug DMT. The list goes on and on from Rock & Roll bands The Kills, Edward Sharpe and The Magnetic Zeroes, Strawberry Alarm Clock, Soko and Yacht to electronic musicians Skrillex, Nicolas Jaar, James Blake and Flying Lotus.
Inventor Brent Paul Pearson has come up with some very new concepts related to wearing crystals on the eyes and the subtle ways they alter time and space. Optical aerobics, conscious sensory exploration, and potential reality are some of the subjects that will be discussed in the book he is currently working on.
While the world becomes more and more obsessed with newness and the spectacle of now Future Eyes : Kaleidoscope Glasses are easily becoming a worldwide sensation because looking through a crystal is like watching television for the first time, it beautifully overwhelms the senses and reminds the human body that it is living, that it is alive, right here and now.
To find out more, please visit http://www.futureeyes.com.