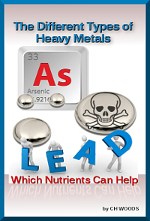 The human body requires many different vitamins and minerals in order to thrive, but an excessive intake of these nutrients could result in heavy metal poisoning
Lake View Terrace, California (PRWEB) September 21, 2013
Organic and Environmental Products has just released eight brand new eBooks to download absolutely free of charge. They can be read, printed, and shared others.
The eBooks provide information on various environmentally related topics such as arthritis and microorganisms to expand on the benefits of the the natural solutions available on the Organic Environmental Products website.
On the Organic and Environmental Products' website, customers can view all of the environmentally friendly solutions for many different things such as odor control, aquarium cleaning, algae removal, composting, mold elimination, lawns, and lawn care.
Apart from the in-depth eBooks, the website contains countless articles to help customers understand all about organic solutions for health and environmental purposes.
Current eBooks Available
At the time of writing, Organic and Environmental Products offers eight eBooks on various topics on general health and the use of microorganisms. Below is a quick look at what is currently available to download.
Microorganisms and Their Use: Beneficial microorganisms include molds, yeasts, and bacteria that are added to various products to promote health, eliminate bad bacteria, help plant life grow, clean septic tanks, and so forth. Many people do not realize that there are a lot more good bacteria than bad. In fact, in the human body there are over 100 trillion beneficial microorganisms. Although it may sound unbelievable, it really is a spectacular fact.
The Different Types of Heavy Metals: The human body requires many different vitamins and minerals in order to thrive, but an excessive intake of these nutrients could result in heavy metal poisoning. In particular, metal that should be avoided in large amounts include mercury, copper, zinc, and arsenic to name a few.
The Arthritis Manual: Arthritis can come in many different forms. Each type comes with its own symptoms and severity, though most include conditions such as muscle soreness, tightness, and stiffness.
High Blood Pressure Information: High blood pressure, also known as hypertension, is a very dangerous condition that can cause many problems if left untreated. The worst part is, over one-third of people who have it don't even realize it until even worse conditions show up. Signs can include fatigue, irregular heartbeat, bloody urine, shortness of breath, and chest pain.
Cramps and Possible Solutions: Muscle cramps can occur out of the blue without any signs of warning. In most cases, they happen in the legs of a person who is asleep, which can be quite the painful surprise to wake up to. Many experts believe that dehydration may be the causes; however there are many other theories as well.
Athlete's Foot Informational Manual: Athlete's foot is a type of fungal infection that targets the top of the feet. It typically occurs on athletes due to the fact their feet are moist and warm from being active. It is contagious, which is why it easily spreads in locker rooms.
Muscle Pain Information and Remedies: Muscle pain can be experienced due to many factors. Improper movements while exercising, over-training, and not stretching are three of the most common causes. Muscle creams, stretching exercises, massages, and hot or cold compressors are great for relieving the pain.
Heartburn and How to Treat It: Heartburn is a condition that affects many millions of people. It is defined by the burning sensation that it causes within the chest. This feeling is due to stomach acid getting up into the esophagus as a result of acid reflux. Triggers generally include acidic foods, caffeine, alcohol, and smoke from cigarettes.
Organic Environmental Products - eBook Download
Read about the above topics completely free at: https://organic-environmental-products.com/ebooks.html.
Organic and Environmental Products
CH Woods
Phone: (818) 558-7099
Email: webmaster(at)organic-environmental-products(dot)com