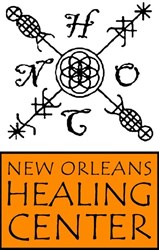 HBOT is a generic treatment for wounds in the body in any location for any duration.
New Orleans, LA (PRWEB) September 23, 2013
The Anba Dlo VI Halloween Festival is delighted to announce the donation of 40 one-hour hyperbaric oxygen tx sessions by The Harch Hyperbarics Inc and Family Physician's Center.
What: Dr. Paul Harch, of Harch Hyperbarics Inc and Family Physicians, has donated 40 one hour sessions of Harch HBOT Hyperbaric Oxygen Therapy Treatments used for Traumatic Brain Injury & Neurological Disorders to the Anba Dlo VI Auction to be used over a two month period of time. Valued at $8,000.
The usual cost of each treatment is $200. The starting bid is $1000.
If the winner's insurance does not cover the doctor's fees, the clinic will absorb that cost too. The clinic can arrange to fly patients (who qualify) here pro bono too.
Who: Dr. Paul Harch is a board certified hyperbaric and emergency medicine physician who has become one of the foremost authorities in the United States on the use of hyperbaric oxygen therapy and SPECT brain blood flow imaging in neurology.
When: The silent auction takes place during the Anba Dlo VI Festival at the New Orleans Healing Center, 2372 St. Claude Avenue, New Orleans, LA, 70117 on Saturday, October 19, 2013, 7 pm - 11;45 pm. Because bidders suffering from brain injuries may not be able to attend the festival, for this item only we set-up a silent auction online with 32auctions.com, and will be accepting bids until 11:30 pm on Oct. 19th, 2013 and phone bids (504-931-5031) up until 11:00 pm on October, 18, 2013. Contact Donn Peabody with your bid. Bidding in person will continue the night of the festival up until 11:45 p.m. at a special concierge desk next to the auction tables. Donn Peabody will be on site to assist with bidding.
What is HBOT? Hyperbaric oxygen therapy (HBOT) is a medical treatment which enhances the body's natural healing process by inhalation of 100% oxygen in a total body chamber, where atmospheric pressure is increased and controlled. It is used for a wide variety of treatments usually as a part of an overall medical care plan.
What are the benefits of HBOT? It has long been known that healing many areas of the body cannot take place without appropriate oxygen levels in the tissue. Most illnesses and injuries occur, and often linger, at the cellular or tissue level. In many cases, such as: circulatory problems; non-healing wounds; and stroke, adequate oxygen cannot reach the damaged area and the body's natural healing ability is unable to function properly. Hyperbaric oxygen therapy provides this extra oxygen naturally and with minimal side effects. Hyperbaric oxygen therapy improves the quality of life of the patient in many areas when standard medicine is not working. Many conditions such as stroke, cerebral palsy, head injuries, and chronic fatigue have responded favorably to HBOT.
What conditions does HBOT treat? Hyperbaric oxygen is used to treat all conditions which benefit from increased tissue oxygen availability, as well as infections where it can be used for its antibiotic properties, either as the primary therapy, or in conjunction with other drugs. "HBOT is a generic treatment for wounds in the body in any location for any duration."
LSU coach Les Miles who endorses use of hyperbaric oxygen treatment is working with Dr Harch.
Dr Harch envisions hyperbaric oxygen treatment facilities one day being installed in major sports venues. For more information about HBOT, the web site is http://www.hbot.com
Anba Dlo is a great time for all but it's not just about the revelry, it's a way to learn and also to help support the economic revitalization of Louisiana's neglected downtown neighborhoods, and to assist residents by providing helpful and necessary programs and services. For more information about the Anba Dlo Vi Halloween festival, the web site is http://www.anbadlofestival.org
Contact:
Donn Peabody
New Orleans Healing Center
504-940-1130
http://www.anbadlofestival.org
http://www.neworleanshealingcenter.org
###