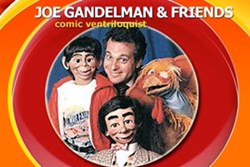 San Diego, California (PRWEB) September 29, 2013
Comic ventriloquist Joe Gandelman, a reporter who quit his newspaper job to do shows in schools and at fairs, is starting his 23rd year of school assemblies this year. He uses characters and shows to seamlessly blend big laughs with strong messages.
In November 1990, after writing from South Asia and Europe for newspapers such as The Christian Science Monitor and working as a staff reporter on newspapers in Wichita and San Diego, Gandelman quit the news business to do ventriloquism full-time with the encouragement of his longtime mentor Jimmy Nelson, the popular ventriloquist made famous in the 1960s with his legendary Nestles Quik commercials. During a special nine-month national school tour during the 2011-2012 school year, Gandelman drove 49,000 miles and did his show at 260 schools of all levels -- often more than one program at a school.
His show features a diverse cast of wooden dummy and puppet characters and offers themes such as no bullying, no drugs, pro-reading, Internet safety, test taking preparation tips -- and more. He will also customize a school program for schools with a theme of their choice. Interactive segments include a ventriloquism lip synch using students, a student wearing a ventriloquism mask that "talks," and Gandelman's popular "how to do ventriloquism" segment where a student gets to try a dummy and follows his instructions on how not to move your lips.
"My goal is to get kids to laugh, think, and retain," Gandelman said. "At a California school years ago a principal asked about six kids after the assemblies what they learned and they all rattled off the main, serious points of the shows."
Joe Gandelman is included in the nationally distributed The Great Ventriloquists collector's cards. He has appeared on NBC's SPY TV. In August 2008 he appeared on Margaret Cho's VH1 reality show "The Cho Show" in an episode where he taught Cho, her assistant Selene Luna, and her mother how to do ventriloquism. He has performed at state and county fairs and in family variety shows across the country for 20 years.