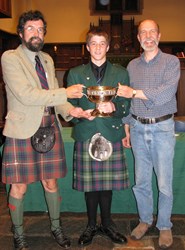 Piping got me started as Celtic jeweler. I am out of my league as a piper with this level of competition. But I am glad I can participate as a craftsman.
Andover, NY (PRWEB) September 23, 2013
Walker Metalsmiths, a New York based Celtic Jewelry company, has created the top prize for the winner of the 6/8 march competition at one of the most prestigious bagpipe contests in North America. Celtic jeweler Stephen Walker began his interest in Celtic design as a result of his own early career as a bagpiper.
Now known mostly for his Celtic wedding rings and unique engagement ring designs, Walker returns to his roots every year to create a kilt belt buckle to recognize the accomplishments of an outstanding bagpiper.
The Donald MacLeod Memorial Buckle is a sterling silver original Celtic design trophy that is created and donated by Walker for a top amateur piper playing at the Nicol-Brown Amateur Invitational Bagpipe Competition. This 2013 event will be held on Saturday October 12 from 9:30 AM to 7:00 PM at St. Andrew's Episcopal Church in Albany, NY.
Donald MacLeod, M.B.E., whose memory the trophy honors, was one of the most successful competitive pipers in Scotland during the 1940s and 1950s. He was a prolific composer and teacher. During the Second World War, he joined the Seaforth Highlanders. He was captured at St. Valery, but escaped. MacLeod became a Pipe Major and returned to the front to pipe his regiment across the Rhine during the last campaign of the war.
The top prize of the event is the Nicol Brown Chalice for Piobaireachd, a classical style of intricate piping from the Gaelic musical traditions of the Highlands of Scotland. Named for Robert Nicol and Robert Brown, "the Bobs of Balmoral", two very important pipers of the 20th century. The Bobs taught annually at the Invermark College of Piping in Petersburg, NY in the 1970s. Stephen Walker was fortunate to have a week of lessons with Bob Nicol at Invermark in the summer of 1974.
Walker says, "Piping got me started as Celtic jeweler. I am out of my league as a piper with this level of competition. But I am glad I can participate as a craftsman."
Walker also contributed work towards finishing some details of the Chalice in 2007. The elaborate trophy is based on the medieval Irish Ardagh Chalice. It was begun by piper-craftsman Brian Yates in 1982. The winner of this most prestigious prize has his or her name engraved on the pedestal for the trophy. The winner of the 6/8 march actually takes possession of buckle and Walker creates a new one each year.
This year, ten pipers from all over North America will be judged by Patrick Molard from Maël-Carhaix, Brittany; Andrew Hayes from Ottawa, Ontario; and June Hanley from Warminster, Pennsylvania. This judging panel is especially suited to the task ahead of them. June and Andrew are former Nicol-Brown competitors, and Patrick was a devoted student of Bob Brown and Bob Nicol.
Walker Metalsmiths is a craftsman centered Celtic jewelry company with a studio workshop in Andover, NY and a retail shop at Packets Landing in Fairport, NY. Stephen Walker has been in business for over 30 years, specializing in authentic Celtic jewelry in silver and gold.