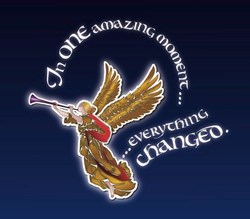 In one amazing moment, everything changed!
Elkhorn, NE (PRWEB) September 23, 2013
WorshipOutlet.com announces the release of its Christmas resources for 2013, "A Shepherd's Story: An Eyewitness Account". Can you imagine what it must have been like for those shepherds in the field when the angels suddenly appeared on that first Christmas? What did they think when the angel's announcement broke into their drowsy reverie? And when the sky burst into light with the angels exalting, were their mouths agape and hearts racing?
The message of the angels to the shepherds is still the Lord's message today: fear not, God has sent His Son! The shepherds went and found the Baby just as the angels had said. You can be sure that the shepherds were more than just in awe when they arrived to find Jesus. In that one amazing moment, as the shepherd's heard the angels, everything changed. And the shepherds had an amazing story to tell! His story became their story. Their story is our story. On this one night, in one amazing moment, everything changed!
A Shepherd's Story is packed with resources to equip any size church to bring their worshipers to that first Christmas night. Add in live animals, and you have the makings of a memorable multisensory experience. In addition to the custom-written complete thematic liturgy WorshipOutlet is known for, this package includes music and video suggestions, and optional components of Communion and a Candlelight ceremony. The drama comes with complete staging instructions, outline, full script, and accompaniment track. A portion of the drama incorporates Don Wharton's "Eye Witness Account", and this track is included with permission of the composer. In addition to the sermon outline, a full transcript of the sermon is also included.
As with all WorshipOutlet resources, these worship services are custom-written around a theme, and fully customizable to fit individual ministry preferences. "A Shepherd's Story" joins WorshipOutlet's popular Christmas services of "This Baby Changes Everything", "Jesus, Born to a Carpenter", and "Beautiful Exchange". All resources are available for immediate download in the online store at WorshipOutlet.com.
WorshipOutlet.com is an online ministry that provides creative and engaging worship resources that are both Biblical and relevant for the 21st Century. While their resources are usable for any size congregation, they are perfect for the single-staff church. First-time visitors to the website receive 3 free downloads just by registering on the website. Resources are available by individual purchase through the WorshipOutlet.com store, and offered at a discount price by subscription.
For more information about Worship Outlet or any of the product lines available, visit https://www.worshipoutlet.com.