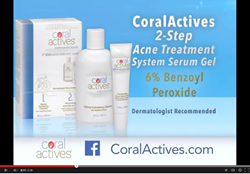 The CoralActives TV campaign marks the brand's national introduction to everyone suffering with mild to moderate acne.
Columbia, MD (PRWEB) September 25, 2013
CoralActives, the newly celebrated breakthrough acne treatment, is launching television commercials across the United States to promote their growth in retail locations.
The campaign tells the story that Ermis Labs has heard often from their customers: CoralActives works, CoralActives is simple and CoralActives leaves their skin looking great and feeling great.
With CoralActives acne products expanding distribution nationwide, it was imperative for the brand to have greater recognition through television. The CoralActives media launch includes targeted print advertising, robust digital presence and in-store advertising video loops.
Whether you are a teen with your first signs of acne or in adulthood still dealing with occasional breakouts, CoralActives Acne Products will provide effective results with two simple steps that are well tolerated on the skin and include a renewable ingredient to help reduce redness and irritation - Sea Whip Extract.
Their Retinol Exfoliating Cleanser promotes good skin health for all skin types. Its ability to prepare the skin to receive the Penetrating Acne Serum makes it the perfect partner in the fight to treat acne. The cosmetic elegance of the acne serum and its 6% benzoyl peroxide strength make it a winning combination for mild to moderate acne.
Additionally, the CoralActives Retinol Exfoliating Cleanser was developed with sensitive skin in mind. It combines a very unique encapsulated retinol delivery system with very fine microbeads and Sea Whip Coral. The CoralActives Penetrating Acne Serum Gel goes on light and dries quickly.
About Ermis Labs:
Ermis Labs is a Medicated Skin Care Company focused on providing over-the-counter (OTC) products that are safe, effective, well tolerated and affordable. Their focus on high-quality ingredients partnered with professional counsel from dermatologists, plastic surgeons and pharmacists has resulted in Medicated Skin Care products with the effectiveness of topical prescription products but the value and convenience of over-the-counter products.
For more information about their products, visit http://www.coralactives.com.