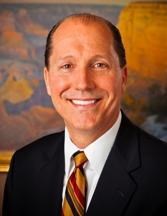 "I am honored to be selected for The Best Lawyers in America," Mr. Knapp said. "It's gratifying that my peers have voted me into the 2014 edition of this list."
Scottsdale, AZ (PRWEB) September 25, 2013
The Scottsdale, Arizona, law firm of Knapp & Roberts is pleased to announce that Craig Knapp has been selected for inclusion in the 21st edition of The Best Lawyers in America. Mr. Knapp was recently selected by his peers for inclusion in The Best Lawyers in America© 2014 in the field of personal injury litigation-plaintiffs (copyright 2013 by Woodward/White Inc., of Aiken, SC).
Best Lawyers is a well-respected peer review publication for legal professionals. The lists are compiled through comprehensive, confidential surveys in which thousands of attorneys evaluate their peers. The 21st edition of The Best Lawyers in America is based on more than 3 million confidential evaluations. Attorneys and clients use the Best Lawyers publication to find highly qualified legal counsel.
"I am honored to be selected for The Best Lawyers in America," Mr. Knapp said. "It's gratifying that my peers have voted me into the 2014 edition of this list."
Mr. Knapp has represented clients in Arizona in serious personal injury and wrongful death cases for more than 20 years. His practice includes medical malpractice, nursing home neglect, car and truck accidents, product liability, defective drug litigation, and other cases involving life changing injuries and wrongful death. He is the 2013 president-elect of the Arizona Association for Justice/Arizona Trial Lawyers Association and a member of the Board of Directors.
Knapp and Roberts is a wrongful death and personal injury law firm with offices in Scottsdale and Phoenix. You can visit the firm's website at http://www.krattorneys.com