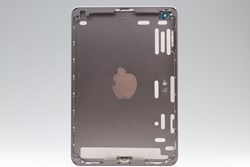 London, Birmingham, Leeds, Glasgow, Sheffield, Bradford, Edinburgh, Liverpool, Manchester (PRWEB UK) 23 September 2013
Any imminent product release by Apple is huge for companies such as iPad Repair Services who specialize in repairing iPads and depend on a steady stream of new devices to grow their business. Such companies must always keep abreast of the latest developments to insure that it's one step ahead of the competition in sourcing original components for the new product. Outside of Apple there is whole industry which is built around supporting its products.
The latest report, from Bloomberg, says that Apple will launch a new version of the iPad mini in time for Christmas along with an iPad 5. Last year, Apple launched its first iPad Mini device and its fourth-generation iPad at an event in October so it is likely that the company will follow tradition and do the same this year. According to analysts, the iPad mini 2's production has already begun, with leaked documents and factories already revving their engines to bring the new device to market.
Japanese mobile parts seller Moumantai recently added a new listing on its website for a second-generation iPad mini housing in the new space grey colour. French website NowhereElse.fr has posted images featuring the rear shell of the iPad mini 2, presenting how the colour would look on the tablet. The new colour reflects Apple's new design with anodized aluminium. However, whether a gold-version of the iPad Mini will be released is yet to be seen. This shade will replace the black color in most of the iDevice range, here coming to create what may be seen as a more unique look for the series – everyone else has black, after all.
The same Bloomberg report cited above states that the new iPad Mini will have a 'high-resolution' screen, suggesting it will be given the Retina treatment. While we've heard little solid information on what the insides of the iPad mini 2 will be consisting of, it is expected to feature a new Retina display. The new casing appears to indicate a thicker device than the existing model. The iPad gained a little extra girth when Apple upgraded it to a Retina display, so a thicker casing in the alleged iPad Mini 2 shots seem to point to some Retina presence in this mode.
iPad Repair Services are passionate about iPads and are preparing to support the latest iPads by sourcing original iPad parts as standard. iPad Screen Repair, the most common repair for iPads, is now available with 1 Year Warranty - the UK Company iPad Repair Services leads the way in iPad Screen Repair Warranty using Original iPad Screens and with the option of Express iPad Repair Service. All work at iPad Repair Services is carried out by skilled technicians with many years of experience in the Apple repair sector and they're able to provide expert advice on how to protect your iPad. They specialize in fixing iPad's and this is backed by an unbeatable 1 year warranty. This goes a long way in giving you peace of mind when it comes to the repair of your iPad. To find out more about the services offered by iPad Repair Services visit http://www.ipadrepairservices.co.uk/ or call Freephone 0800 033 7508. iPad Repair Services is part of the Hello Techy family of tech repair businesses.