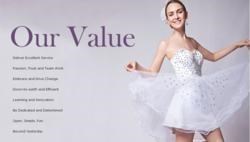 (PRWEB) September 23, 2013
Quinceanera100.com, as its name suggests, is a famous website focusing on Quinceanera dresses. It is now unveiling its 2014 spring Quinceanera dresses. For a new surprise, every dress will be offered with a discount.
A spokesman says lower prices are available for any distributor. That depends on the number of dresses he/she orders. The website has already been updated. The designers from Quinceanera100.com are all professional. They think Quinceanera is a significant occasion in a girl's life just like the traditional Sweet Sixteen Party in the USA, so it should be planned in advance. Therefore, they decided to make 2014 spring Quinceanera dresses available for more customers.
At present, more than 1,000 dresses have been ordered by people from all over the world. In the comments section, Lisa wrote: "I received my dress yesterday afternoon, and I can't express how excited I am when I open the parcel. I didn't expect to its coming yesterday. The quality is so wonderful. And the right size, the right color, the delicate gift…It is really the one that I have been looking for. It is more beautiful in person. I feel my payment deserves. Thank you so much! I will certainly keep you in mind and recommend you to others in the future."
Quinceanera100.com is always committed to providing high quality Quinceanera dresses. It has worldwide customers and a lot of them are frequent callers. With its years of hardworking, it comes with striking success nowadays. It offers all kinds of Quinceanera dresses. Irregularly scheduled discounts are often provided. More details can be found at http://www.quinceanera100.com/