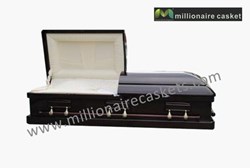 (PRWEB) September 22, 2013
Millionaire Casket, a long established and well-known China casket manufacturer, has recently launched a big casket promotion in the United States. All its products are at discounts up to 30%.
As a spokesman from the company said, the purpose of this promotion is to benefit the casket distributors all over the world, especially those in the US. Thanks to the distributors' trust and support, Millionaire Casket has developed very fast recently. They intend to show their appreciation to customers by offering quality products at low prices.
Each casket from Millionaire Casket comes with a special locking system. That is to say, the casket would be hard to open again once it is locked.
As one of the leaders in the casket industry states, Millionaire Casket offers all sorts of caskets: metal caskets, solid wood caskets, cremation caskets, veneer caskets and so forth. Custom made products can also be provided as long as the customer describes his requirements clearly.
"Our products have been popular worldwide for many years. Each of our staff keeps it in mind that only quality construction, quality interior, quality hardware and quality finish, can make high quality products. We are now launching the promotion to expand our customer service operations," says the spokesman.
About MillionaireCasket.com
MillionaireCasket.com is a long established and well-known China casket manufacturer. It makes every product with our full concentrated attention all the time. Best pre-sale service and after-sale service is offered on the website.
More details can be found at http://www.millionairecasket.com.