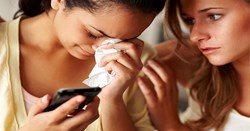 "This Movement against Bullying needs to gain more momentum and that only happens with sharing knowledge and experience and truly empowering children to stand up for their safety online and everywhere"
London, UK (PRWEB) September 24, 2013
Joel Haber, a Clinical Psychologist and nationally recognized parenting expert who has dedicated more that 20 years to the prevention of abusive behaviors in children and adults, talks to NoBullying.com today about the recent changes in bullying and answers the question, has bullying changed?
Joel Haber is the author of the internationally acclaimed, Bullyproof Your Child for Life: Protect Your Child from Teasing, Taunting and Bullying for Good. He made several interesting comments on the bullying rise worldwide.
On whether bullying has changed, Dr Haber comments, "There is so much more focus on the problem in all its forms: physical, emotional, relational and bullying through technology. Years ago, the focus was mainly on physical bullying." He also adds that the advent of technology and cyber bullying has added a new dimension to the problem of bullying.
He praises the role of media in dealing with bullying as "awareness of bullying has made opportunities for youth and others involved in bullying to rally around the problem and find strength together to make it better."
According to Dr Haber, long term effects of bullying include anxiety, depression, substance use increase, decreased academic performance and avoidance of social experiences.
Macartan Mulligan, Co-Founder of Treze, said, "We are thrilled about the vast array of experts in the field willing to share their knowledge and experience with us to combat bullying."
He added, "This Movement against Bullying needs to gain more momentum and that only happens with sharing knowledge and experience and truly empowering children to stand up for their safety online and everywhere"
Mulligan encourages experts from all over the world to join the Movement against Bullying by contributing to NoBullying.com via media(at)nobullying(dot)com
He added that parents and teachers should make a point to educate the younger generations about the sad outcome of bullying online and off line.
NoBullying.com features many pages dedicated to parents, teens, teachers, health professionals as well as posts related to cyber safety and the latest news about law making concerning curbing Bullying worldwide as well as inspirational Bullying Poems and Bullying Quotes.
The website makes a habit of updating its bullying statistics and cyber bullying statistics regularly because it is essential to understand how widespread the bullying epidemic is.
He also added that anyone suffering from bullying in any form or way can always reach out to the team of NoBullying and they will be given advice on how to stand up to bullying or protect themselves online.
The founders of the website hope that viewers can truly learn about bullying definition as well as school bullying and workplace bullying and put a serious effort to making it stop by education and caution and not by violence. NoBullying.com is not a mere website but an actual movement against bullying.