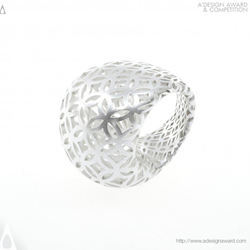 Como, Italy (PRWEB) September 23, 2013
A' Design Award and Competitions are encouraged to announce that the project Odyssey by Thomas Mrokon, Antje Bott and Meiko Hecker has been granted the famed Golden A' Design Award in Jewelry, Eye wear and Watch Design Category and chosen as a winner by the respected jury members of the A' Design Award & Competition within a great number of submissions.
About Odyssey
The basic idea involves covering voluminous, geometric shapes with a patterned skin. From this there evolves an interplay of clarity and distortion, transparency and concealment. All geometric shapes and patterns can be combined at will, varied and complemented with additions. This fascinating, simple idea allows for the creation of an almost inexhaustible range of designs, perfectly consonant with the opportunities offered by rapid prototyping, as each customer can have an entirely individual and unique item produced.
To learn more and download high-resolution photos, please visit: http://www.adesignaward.com/design.php?ID=26677.
Project Members for Odyssey
Odyssey was imagined by Thomas Mrokon - CEO, Design, Production, Software, Web, Antje Bott - Design and Meiko Hecker - Finance, Business Development.
The Golden A' Design Award
The Golden A' Design Award is a prestigious award given to top 3% percentile designs that has exhibited an exemplary level of sublimity in design. The designs are judged by a panel of three different jury which is composed of Academic, Professional and Focus Group Members. The designs are evaluated with score normalization to remove any biases and are voted on aspects such as functionality, ergonomics, engineering, presentation, innovation, usability, fun details, technology, and any other specific points that could be considered, each of these points are further weighted for different jury groups.
About A' Design Award and Competitions
A' Design Award and Competitions, aims to highlight the excellent qualifications of best designs, design concepts and design oriented products. A' Design Award and Competitions are organized and awarded annually and internationally in multiple categories to reach a wide, design-oriented audience. Learn more at: http://www.whatisadesignaward.com.