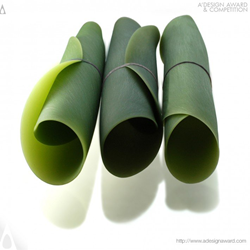 Como, Italy (PRWEB) September 24, 2013
A' Design Award and Competitions are delighted to share that the work Seasons by Nao Tamura has been announced as a winner of the notable Golden A' Design Award in Bakeware, Tableware, Drinkware and Cookware Design Category marked as a winner by the transnational judges of the A' Design Awards & Competitions among a great number of participants.
More Information on Seasons
The project Seasons is an interpretation of functional kitchen and serving ware, inspired by nature and technology, through the cultural lens of Japan. Like a real leaf, each serving dish is flexible and multi-purpose. It rolls up for storage using the benefits of silicone to insure its use in an oven or microwave, able to withstand repeated dishwasher cleaning. Each leaf enjoys its own shape, stack-able in its open state, and in multiples, creating a sculptural display of serving art ware. To learn more and download high-resolution photos, please visit: http://www.adesignaward.com/design.php?ID=26640
The Golden A' Design Award
The Golden A' Design Award is a prestigious award given to top 3% percentile designs that has attained an exemplary level of greatness in design. The designs are judged by a panel of three different jury which is composed of Academic, Professional and Focus Group Members. The designs are evaluated with score normalization to remove any biases and are voted on aspects such as functionality, ergonomics, engineering, presentation, innovation, usability, fun details, technology, and any other specific points that could be considered, each of these points are further weighted for different jury groups.
About A' Design Award and Competitions
A' Design Award and Competitions, aims to highlight the excellent qualifications of best designs, design concepts and design oriented products. A' Design Award and Competitions are organized and awarded annually and internationally in multiple categories to reach a wide, design-oriented audience. To learn more, visit: http://www.whatisadesignaward.com