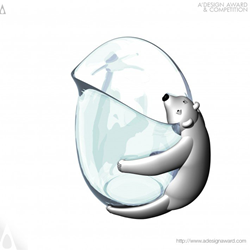 Como, Italy (PRWEB) September 25, 2013
A' Design Award and Competitions are proud to announce that the work Bear Hug by Clive Bullivant has been announced as a winner of the famous Golden A' Design Award at Bake ware, Tableware, Drink ware and Cookware Design Competition picked as the winner by the transnational arbiters of the A' Design Awards & Competitions within a great number of projects.
Regarding Bear Hug
This design brings amusement and practicality to an otherwise purely functional product. It is part of a range of domestic culinary products taking inspiration from the polar regions. It employs polymers to reduce weight and improve safety. The double skin of the poly-carbonate main body is filled with a silicone gel which helps maintain the temperature of the contents when the bucket is pre-chilled keeping ice water colder for longer. It brings color and a talking point to dinner parties where it becomes a 'table sculpture' as well as functional object.
To learn more. please visit: http://www.adesignaward.com/design.php?ID=27406.
The Golden A' Design Award
The Golden A' Design Award is a prestigious award given to top 3% percentile designs that has exhibited an exemplary level of perfection in design. The designs are judged by a panel of three different jury which is composed of Academic, Professional and Focus Group Members. The designs are evaluated with score normalization to remove any biases and are voted on aspects such as functionality, ergonomics, engineering, presentation, innovation, usability, fun details, technology, and any other specific points that could be considered, each of these points are further weighted for different jury groups.
About A' Design Award and Competitions
A' Design Award and Competitions, aims to highlight the excellent qualifications of best designs, design concepts and design oriented products. A' Design Award and Competitions are organized and awarded annually and internationally in multiple categories to reach a wide, design-oriented audience. Learn more at: http://www.whatisadesignaward.com.