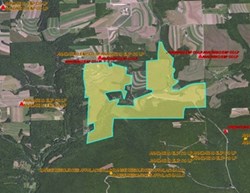 We use ShaleNavigator to present critical information to our buyers, and its been a great help in developing new projects and prospects across the Appalachian Basin. - Justin Burgess, JD, CPL, Arete Acquisitions
New York, NY (PRWEB) September 24, 2013
ShaleNavigator, the web-based mapping solution for shale oil and gas information, has added over 10,000 new acres available for lease or purchase this month. "Landowners are choosing to list property in ShaleNavigator's map so gas companies and mineral buyers can see their acreage among pipelines, permits, and wells," said Edward Camp, developer of ShaleNavigator. "Oil and gas companies, mineral rights investors, and land acquisition firms operating in the Marcellus and Utica shale plays can quickly find and connect with property owners through this service, which marks a major milestone in meeting our subscriber's needs."
Property Reporting Tool added
In addition to the Available Property service, ShaleNavigator's Property Reporting service allows subscribers to enter a street address or coordinates and generate a detailed report on wells, well permits, pipelines, and lease offers surrounding user defined locations. The service allows Pro Version Subscribers 10 reports per month and helps subscribers quickly evaluate current development in their areas of interest.
The new Report Generation feature combined with the powerful mapping system enables Pro Version Subscribers to stay current with fast-moving developments in the Marcellus and Utica shale plays that affect their property, landowner group, or Company's position within the Shale Gas landscapes," said Camp.
Accessing ShaleNavigator
A free 7 day trial account is available by signing up at http://www.shalenavigator.com. Pro Version Subscriptions, which include the new Property Report feature, are available for only $99/month, or $899 for an entire year. Multi-user group discounts are also available.