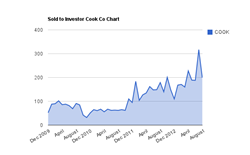 Chicago, IL (PRWEB) September 23, 2013
The Chicago foreclosure market in August 2013 performed well overall, but the rate of progress has slowed down considerably from the month before.
One interesting statistic from August was the mere 2.71 percent drop in new foreclosed Chicago properties. Though it's good that the number dropped, from May to June 2013, new homes being foreclosed upon dropped by 28.64 percent. July of this year showed some of the oddest statistics Chicago has seen because both the rate of new foreclosed properties and the rate of properties sold to investors were on the rise. Having less homes and businesses in foreclosure is always a good thing for the Illinois real estate market, but with the statistics all over the board, residents will have to wait until next month to see how the market stabilizes.
Though the overall Chicago market saw a 2.71 percent drop in new foreclosures, some of the individual counties had increases. For example, Dupage County had 25.50 percent more properties foreclosed upon in August than they did in July and Kendall County had a 44.19 percent increase.
August 2013 was also interesting in terms of properties sold to investors. After the high numbers of July, August's numbers are not surprising. July 2013 was an anomaly in many ways, and from June to July there was a 60.66 percent increase in properties sold to investors. August not only didn't live up to the promising numbers of July, it actually decreased by 24.49 percent when it comes to properties sold to investors, undoing some of the progress made by the previous month. With the exception of Kane and Will counties, every single county experienced a decrease in new properties being sold to investors. However, the counties that did well did really well – especially Will County.
Will County had an exceptional month in August. With its 38.64 percent increase of homes and businesses sold to investors where most counties dropped by the same amount and its 96.76 percent increase in total foreclosures resolved for the month (including both REO properties and properties sold to investors), it was a standout among the other Chicago area counties. Will County's REO numbers for the month were also much higher than they have been in the past. From July to August, the number of REO properties increased by 114.89 percent, which made up 83.24 percent of their overall numbers for foreclosures that were resolved. So, although they are doing better with their foreclosures selling to investors, they are also having a big chunk of their progress stolen by properties that didn't sell at auction and reverted back to their lenders.
Though August 2013 had some depressing numbers when compared to July, there was still a huge amount of progress over the numbers seen by August 2012. In fact, there are 54.53 percent less new foreclosures than there were at this time last year and 12.22 percent more properties being sold to investors. So, despite a seemingly slow month, the overall Chicago and Illinois foreclosure market is healthier than in the fall of 2012.