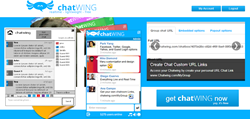 Cambridge, MA (PRWEB) September 23, 2013
World events are common topics that can be discussed in any website or blog. Based on the research of Chatwing Team, world events constitute up to 50% of traffic rates in prominent websites. Chatwing Team is planning to launch a blog that is focused on the discussion of world events. In this way, users can join the discussion and generate traffic for their own chatroom.
Political topics have a tendency to be included in Chatwing's chat app new blog. Various political topics are imminent: government programs, the Obama administration, economical budgets, controversies, lives of world leaders, and many more. According to Chatwing developers, these topics can be pinned in any chat room to help create activity.
One of the main reasons why Chatwing will launch a blog is to heighten the awareness of people, especially web users. With multiple topics about the world, users can share their insights and opinions; this is also helpful if the users are maintaining blogs and websites. Since Chatwing chat software includes social media connectivity, the users can extend the discussions in Facebook and Twitter.
Once ready, this 'world discussion' blog will become a part of Chatwing's blog series. Up to date, Chatwing developers are maintaining dozens of blogs containing topics like finance, sports, home care, social media trends, self-development, Wordpress tutorials, Android, and many more.
About Chatwing.com
Chatwing.com specializes in the new field of website chat. Over the years, the Chatwing team has introduced live chat widget for hundreds and thousands of blogs. The Chatwing application bridges people from many parts of the world, creating global synergy through the Internet. The shout box can be installed in just seconds, and it can be used for varying purposes such as leisure and Internet marketing. It also allows a user to customize the size, color, and name of the widget.